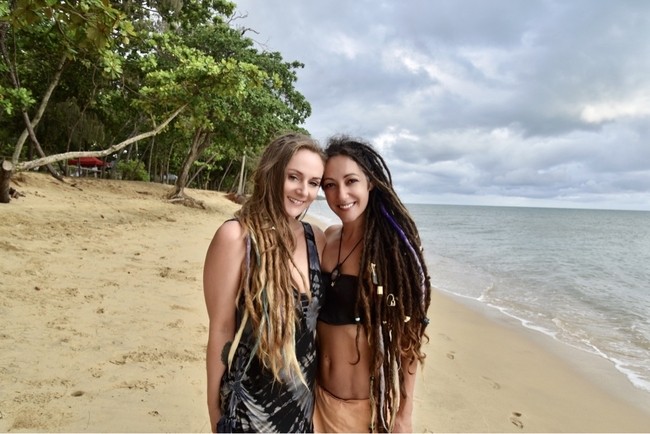 From the depths of the Far North Queensland tropical jungles, Dee Lunar & Fae'riy Lokks emerge as a powerful sultry/sweet duo in their first collaboration "Soul Song", which is the second release for electro pop project 'Lady Serpentine'.
Weaving soulful harmonies with an instrumental nod to 80's synth wave, Soul Song is an uplifting anthem about standing in your power, shining your light and singing your soul song.
Lady Serpentine is the brain child of FNQ's indi rocker Dee Lunar, birthed through the intention to collaborate with other female artists, creating fun and positive music with her friends .
Feeling the pressure of our uncertain times and needing a distraction Dee set herself a personal challenge to write and record 10 songs in 2 months and Soul Song was one of those songs.
Fae'riy grasped the opportunity to collaborate on Soul Song as soon as she heard the Demo, and excitedly approached long term friend Dee with chorus and harmony ideas.
Fae'riy Lokks, a classically trained musician, began her love and study of music at age 5. Extending her artistic horizons, she took to visual and performing arts in her youth.
Fae'riy has a very distinct & eccentric style and persona. In her adult life she has built her brand as a designer, dreadlock artist & stylist .
Although the passion for writing music has always burnt deep within Fae'riy, her vocals on Soul Song is her first recording as an emerging music artist.
Filmed on the pristine beaches of Bingil Bay & Holloways Beach, the video clip allowed Dee and Fae'riy to really showcase their combined talents for stylistic design and vision.
Creating absolutely captivating and gloriously idyllic scenes, this dynamic duo have truely expressed their souls and produced a deeply moving & inspiring work of art with their Soul Song project, setting the tone for the effortless creative and magical flow shared between these