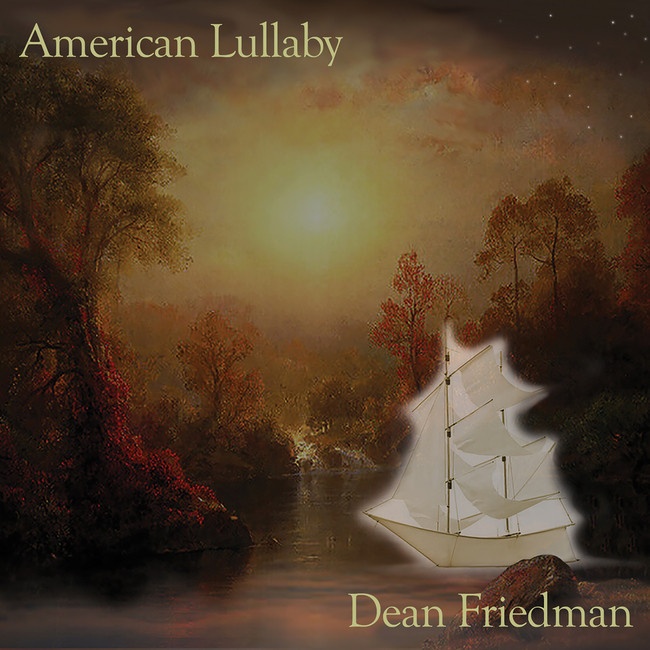 Dean Friedman is an established singer/songwriter with nine studio albums under his belt and 'American Lullaby' is his new release. The record focuses on Dean's personal take on all of the wild occurrences that have happened in the US and abroad over the last six years. Even though Dean Friedman touches on pressing matters, historic trends and political digs, Dean does so in a very delicate manner. With material that could be deemed as dark and upsetting by some, Dean Friedman is able to uplift your spirits and lift up the songs with such ease.
Dean kicks things off with the title track "American Lullaby" where right away the listener is transported to the ocean where the sounds of seagulls and water rush over you. This nautical effect is refreshing to say the least and then throw in tender vocals, fine piano playing and wonderful orchestration and you have yourself one solid "American Lullaby". Next, we hear "Too Much" that offers a funny & light-hearted tone by Dean Friedman to go along with a jazzy, uptempo feel. On "Halfway Normal World", Dean gives you a sweet dose of simple reality that hits you immediately with its relatable material. Track four, "The Swing of Things", is movin' & shakin' at just the right pace and provides a happy, upbeat melody. Next, get into the groove and do not fret that "The Russians Are Coming" because Dean Friedman is tapping into his best Russian accent while easing our minds & ears with his storytelling. On track six, "Sorry 'bout That", the listener gets hit with a classy, classic touch mixed in with serious subject matter about our Mother Earth. "Welcome to Stupid Town" is our next stop on the record where apparently "everything is upside down", so hold on tight and don't look down. Track eight, "Ridin' with Biden", has funky beats in full effect and whether you're "Ridin' with Biden" or not, you can't deny the funk. The audience will receive a delightful array of sound on "I Wish You Joy" where the music simply shines through and warms you up from head to toe. Track 11, "Just Another Birthday Song", contains a clever yet quirky hook that works wonders. Now all that is missing is a delicious piece of cake once we sing "Just Another Birthday Song". Dean ends on a calming note with "On a Summer's Night" where nature surrounds you and eases your soul. Dean is singing into the starry skies "On a Summer's Night" and it is music to my ears.
I was pleased with Dean Friedman's efforts on 'American Lullaby' where he has a certain charm about him. As a singer/songwriter, Dean truly brought all 12 songs to life through thoughtful lyrics, tight musicianship and a conversational tone that will connect with many listeners. Dean Friedman shows off his personality and his artistic abilities on 'American Lullaby', so sit back and enjoy the many colorful layers of Dean Friedman.
You can also check out the official music video for "American Lullaby" right here: https://www.youtube.com/watch?v=59Ei5xl8-0g.
By Jimmy Rae