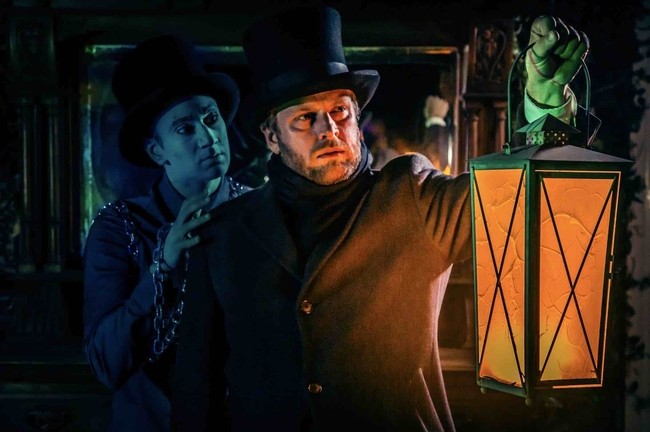 Exclusive Interview with Artistic Directors Matthew Bamberg-Johnson, Genevieve Gearhart, and Julianne Just
When did you first know you wanted to become an actor? What was your first acting gig
While we all have our own origin stories, we'll talk about when we knew we wanted to form the company.
We like to talk about how our first show was in a bathroom.
It was 2012, we were students at CalArts, and it wasn't technically allowed. We told the security guards we were filming (which seemed to work), and The Weird Sisters, our site specific witch-centric version of Macbeth, became the unofficial inaugural production of what would eventually become The Speakeasy Society.
Nine years and 23 unique productions later, the company is quickly becoming identified as the industry standard for independent theatre companies in Los Angeles — and immersive theatre companies nationwide.
Who are some of your top performance art influences? 
When we started the company, we drew a lot of inspiration from Third Rail Productions, the creators of "Then She Fell," and Punch Drunk, the creators of "Sleep No More." We all have a strong background in experimental theatre and have learned a lot from the likes of The Wooster Group, Anne Bogart and SITI company.
We also pay attention to non-theatrical sources like the large scale spectacle of concerts, and the 360 degree design of themed entertainment venues.  
What do you like most about performing live?
Acting in an immersive production is such a unique experience because your scene partner is the audience, and they don't know their lines. Every time the scene is performed you are finding new and unexpected moments of connection with them. You never know what the next person will bring to the work that you co-create alongside them.  It's an incredibly intimate process that we've never experienced anywhere else.  
Is there a song on your latest CD release here that stands out as your personal favorite, and why?  
M: In terms of the scenes from our play,  I think the Crachit's dinner scene is perhaps the most resonant moment of the piece in terms of it's relationship to modern American family dynamics.  It's a mess.  Everyone has baggage, nothing works out as it's planned, and yet they still manage to have a moment of connection and celebrate the spirit of the season.  Scrooge is also realizing so much by witnessing the impacts of his decisions and policies on people that he loves- and I think he really does love Bob Crachit, but doesn't have the words for it. 
What do you want guest to get out of this virtual experience?  
We hope that audiences are able to engage with "A Christmas Carol" in a way that feels true to their modern lives while preserving the soul of Dicken's original text.  In a time where we are still disconnected with our communities, we can come together in this digital space too. We also love that we can share the work with you, even if you live thousands of miles away from Los Angeles! 
What was the inspiration behind Ebenezer?
We first had the opportunity to perform Ebenezer in 2014, in an LA Speakeasy bar called Chloe's, tucked in the back of the Golden Road Brewing company.  In that experience, guests (beers in hand) physically followed actors as they progressed through the space.  The audience was able to choose from a wide range of characters and experience to form their own version of the classic Dickens story.  
Eventually the space was no longer available to us, so we tabled the production until we could find another suitable venue. When Covid hit, we thought the silly and transgressive world of "Ebenezer" could help people to find community while they were stuck in their homes.  It was such a success that we decided to do it again this year! 
Why is was Mutual Aid LA the selected charity?
Mutual Aid LA was formed in the beginning of the Covid 19 pandemic to provide material support to communities and individuals who had critical need.  The organization has built upon its successes to connect neighborhood based mutual aid efforts across LA, providing support in the form of medical, utility, and car bills; funeral expenses; food; medication; health supplies; children's supplies; health insurance and childcare.  We believe that the spirit of the organization aligns nicely with the message of "Ebenezer", and we are thrilled to redirect all profits to their aid efforts.