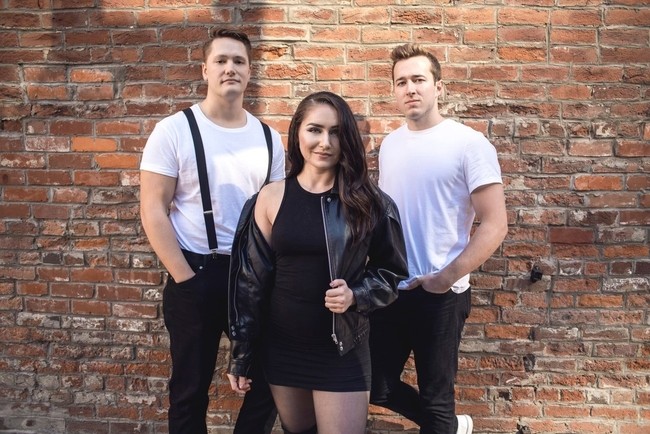 First off, tell us a bit about yourselves. Who and what are the band we know as Rosewood Coast?
1.) Rosewood Coast is Kali Marsh, John Trygier, and Zack Sempsrott. We are three really great friends who all share the love of music together and put that love into Rosewood Coast. We all met each other through music in some way and through that became Rosewood Coast! We deeply value and respect each other and what each one of us brings to the band, and most importantly we like to have fun with each other. We love what we do and we love doing it with each other. So it's a job but it's also having a good day with your best friends.
What's the story / meaning behind your band name?
2.) As far as the name, it doesn't have that deep of a meaning as one might think, just a compilation of words together and picking two that we liked together.
Let's hear about the new single—what's some of the inspiration behind it, the backstory, and meaning behind the title, "What Do You See"?
3.) "What Do You See" is pretty much about having insecurities and a lack of confidence due to unhealthy relationships from your past. Sometimes even once you've moved on from that part of your life, you're left wondering what your new partner might see in you that you can can't see in yourself.
The song has a fairly happy vibe to it, even though when you break it down there's some sadness to the story. In a similar light, we hope that this song can serve as a reminder that everyone around you has insecurities too. The title "What Do You See" is to sum up the general idea of asking your partner what they see in you that you can't see for yourself.
What is the dynamic and chemistry like between the bandmates as far as songwriting, production, and managing the affairs of a budding musical act?
4.) We all really enjoy the dynamic and chemistry of our band, and we think it's something special. We see each other as best friends more than "bandmates". We always know how to make each other laugh and be there for one another. It's an interesting dynamic because somehow our minds are always so connected, which goes a long way towards being on the same page with one another and sharing the work load of things that need to be done in order for us to be successful. Songwriting is our best work team wise because we have moments where we all put our heads together and things just click which makes the experience of writing original music together really exciting. Musically we just understand each other really well, sometimes without even having to say a single word.
The music industry has been described as one of the toughest industries in the world, but it's also one of the most fulfilling when you're able to share your music and your message with an audience. What are some of the things that drive you and keep you motivated in the pursuit of music?
5.) Connecting with people and interacting with an audience live, is always a great reminder as to why we do this. Seeing people smile, laughing and just having a good time to our music just shows us this is what we want to do. And also getting to experience that feeling all together makes it even more special and amazing.
I'm sure 2020, and probably much of early 2021, was a bit of down time for you as far as touring like it was for everyone else. But are there any upcoming shows we should know about?
6.) Yes, the pandemic did put shows on hold for quite a while, but we surely did make up for it when things opened back up by touring the Tin Roof circuit throughout the midwest along with some other really cool performance opportunities mixed in. Now that we have wrapped up that tour, we have gone back to concentrating on songwriting and we'll be in and out of the studio creating more music, but you can catch us at Tin Roof in Lexington on New Years Eve and New Years Day!
Any last words / anything you'd like to share with the readers?
7.) We deeply appreciate the opportunity to get to talk to you and tell you more about Rosewood Coast and what we are about. We are constantly working towards the next big thing and taking more steps to get to our big dream. We can't wait to see what the future holds for us and hope people ride along with us on this awesome journey!