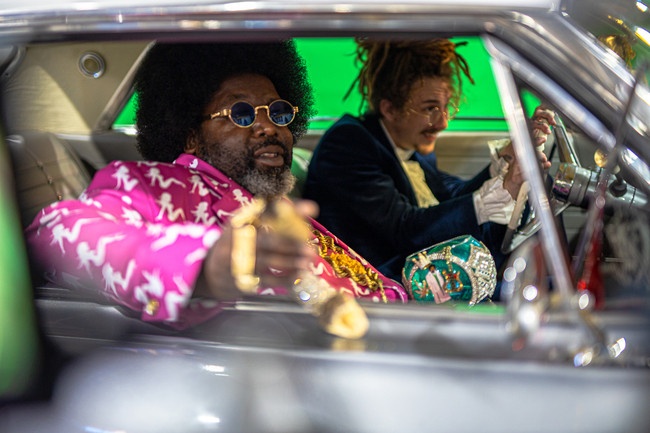 After sharing the stage with his new label mate Afroman, Kid Lennon christenes the new relationship through his Cosmic Wire debut, 'Cuz I'm High', out August 20th. In collaboration with Afroman and YHK De$tin, the specially-chopped, downtempo single 'Cuz I'm High' serves as the certified sequel to the timeless record that put weed legalization in motion 21 years ago.
– https://open.spotify.com/album/2VlijYbRumeB4clIUwPC6i
Continuing the saga of 'Because I Got High' Afroman rolls out fresh bars for the 2021 remix, while Kid Lennon rips merciless verses. 'Cuz I'm High' showcases YHK De$tin who originally debuted on Kid's 2017 club-ready hit, 'Juice' and his satisfyingly smooth voice has been featured on other Lennon releases such as, 'YOKO'. Alongside the release comes a music video directed by Allex Tar that Kid shares about the video shoot, "I had the best time of my life that day."
– https://open.spotify.com/artist/6eKioGJFFXwGNslTMzYhlu
By finding a resonating flow and hitting with sharp lyrical timing, Kid Lennon aka Chief Peace knows how to set the dance party off. Lennon's magnetic sound has pulled in a collective of talented artists and creatives to form Young Hippy Kids (YHK). With the spirit, "we are all young hippy kids at heart", YHK branches out from Lennon's hometown of Oklahoma City to instill positivity.
About Kid Lennon:
Kid Lennon has opened for artists like Lil Wayne, Migos and Ludacris then his performance at HighTimes Magazine Cannabis Cup lead to him becoming the face of a HighTimes weekly show with 2.6 million viewers. While Kid's viral performance of his essential single, 'Hippy Kid' that pulled Shaq on stage at the Hubbly Bubbly's open-mic night in Oklahoma was a catalyst to his initial success.
The rapper and revered live-painter showed his soulful side while working with a live band for 'Good Gone By' on Red Bull's TV series The Cut. Now a vital node of Cosmic Wire, stay tuned to see if Kid's dreams of collaborating with Paul MaCartney or Weezy come into fruition and for the music video for 'Cuz I'm High.'
About Cosmic Wire:
In 2020 Afroman resurfaced on Cosmic Wire's debut release 'WHOLEthing' by HEwas, a funky, electro single unmistakably produced by the label's head, BLAZAR. The new Universal imprint is marrying the music, art and tech industries with big fish from Hollywood and Silicon Valley. In most recent news, the holistic record label facilitated the 1.1 million dollar sale of the Grammy-nominated artist Ruby Mazur's hybrid canvas/NFT that raised funds to fight cancer then released Corey Feldman's reimagined 'Feeling Funky'.