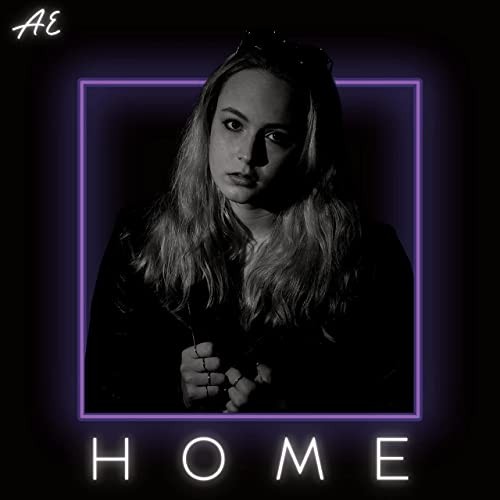 With little more to contend with than a sterling bassline, singer Ally Eandi launches into the lyrics of her new single "Home" with a heavy heart and an unsubtle passion that we can feel in every melodic word she sings. Rather than getting behind the bass part in the intro portion of this song, she's out in front, leading us into a stoic harmony with a confidence that is hardly common among those with a mere three singles under their belt. Such is the rarity of a player like Ally Eandi and her performance in "Home." She stands out from the crowd without having to pull in a lot of fanciful studio fireworks in this piece.
I think the greatest takeaway from this release is how incredible a sound she can break off with next to nothing in the mix beside her, which is not something that I have been able to say for many of the pop musicians that have been making waves in and outside of the American underground this year.
– https://open.spotify.com/album/6GbDfzakTbdrVJyX81C1TI
"Home" follows a trend I've been finding in indie-pop lately in the sense that its instrumental fabric is defined by an atmospheric sensibility a lot of us had come to associate more with surreal pop, post-rock, and ambient music than we had anything closer to the mainstream conventionality you'd find browsing your FM dial. What separates this work from those of similar performers this August is the lyrical focus that Eandi is affording this song, allowing for her verses to take on a complex presence that is rivaled only by the fleeting swell of bass and, later on in the track, guitar.
She's vulnerable through so much more than her words in "Home," utilizing the absence of aggression and urgency in the instrumentation behind her to advance a theme her lyrics could only ever develop so much on their own. Hers is a delicate vocal, but she knows how to throw her emotional weight around when she needs to, rejecting the very notion of inserting halfhearted or forcedly dramatic twists and turns into the words here. 
AMAZON: https://www.amazon.com/Home-Ally-Eandi/dp/B09B5DBY9T
The third overall single we've heard from Ally Eandi is compelling pop beyond what I've come to expect out of most players nowadays, and it's got a terrific opportunity to bring even more interest towards this acclaimed singer and songwriter as the year presses on. One of my favorite things about this artist is the fact that her work is minimalistic on purpose, and she chooses the aesthetic because she can, rather than because she has no other choice but to take the simplest route available to her. Everything about "Home" sounds and feels deliberate from an audience perspective, and with it gaining steam online at an exponential pace, I would not be the least bit surprised if Eandi reaps bigger rewards for this release than she has her last two in "3 More Seconds" and "My First Dance" combined. 
Gwen Waggoner