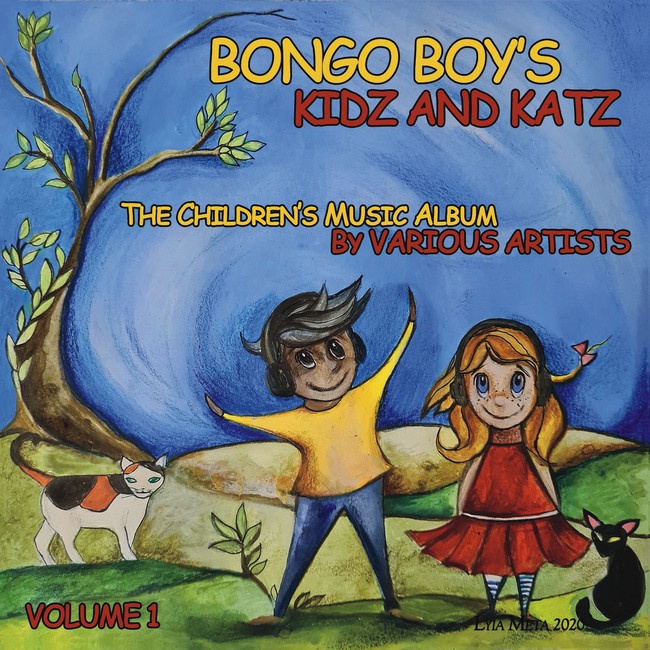 Long gone are the days when children's music was more one-dimensional and simple. Say hello to invigorating material that will enrich young minds while also providing high-quality productions. Bongo Boy Records is proud to announce the release of 'Kidz and Katz Volume 1' by Various Artists that came out June 04, 2021. This is a children's album that can be enjoyed by families and will also teach kids valuable lessons in the process. Talented, award-winning artists from the United States, Australia and Russia are featured on the 14-track children's album. One will hear many different styles of music from jazz, rock, pop, folk and world music to dance, country, classical and hip-hop. 'Kidz and Katz Volume 1' has something for everyone!
The record starts up with a jazzy & peppy number titled "Song For my Baby" by Andy Z that is sure to be a toe-tappin' good time. Next, we hear from Mauro Magellan as the "Dark Moon" sets and this song is glowing bright from beginning to end. Track three, "Peter Pan Man" by Gypsy Carns, offers young listeners a fun, story time session so gather all around and listen closely. Prepare to enter an exotic world of wonder on "Elephants in the Jungle" by Sulinha's Trio as you trample lightly through the musical brush. Track five, "Rocket Star", by Fans of Jimmy Century supplies a very poppy, fam-friendly vibe that children of all ages will immediately be drawn to. Moving along, we get a tall tale in the form of "Little Hands" by The Cuddly Koalas that is short but sweet. Kids will receive a refined approach on "My Piccolo Violin" by An Vedi that will invite children into the wonderful world of classical music. Allow yourself to be consoled by Elise Morris with "Mother's Song" that contains such a loving & comforting sensation. Track nine, "Love Will Lead You Home feat. Vanessa Bryan", by Jim Wilson displays an enriching sound that is light 'n' airy in texture. Next, Sulinha's Trio perform a funny yet informative number called "Brush My Teeth" that will put a big smile on your face. Get ready to jump for joy with "Spiderwebs In My Hair! feat. Underground Treehouse"by Clark Ford where you are hearing adventurous audio for young ears. Track 12, "Feelings", by The Cuddly Koalas serves up some catchy rap verses for kids and exciting rhymes. Listeners will consume finger-lickin', good notes on "Guitar Pickin' Chicken" as William Sherry, Jr. shows us all how to have a good ol' time country-western style. The album ends on a high note with "Trini Nights (Everybody Jumps)" by Cousins STEEL & Cortez where this lively joint will get the audience up and dancing and bustin' a move.
'Kidz and Katz Volume 1' by Various Artists serves up thoughtful, enjoyable songs while also educating children at the same time. The beauty of this record is that the artists are providing valuable tools for kids all to the key of highly professional, well-versed compositions. Music with a solid purpose in mind and music that has that fun factor in motion can best describe 'Kidz and Katz Volume 1'. Bongo Boy Records plans to submit the album for Best Children's Music Album to the Recording Academy™ in Los Angeles, California, for consideration for the 64th Grammy Awards®. I wish Bongo Boy Records the best of luck and hope they bring home a BIG win for this phenomenal Children's Album.
'Kidz and Katz Volume 1', The Children's Music Album by Various Artists is available worldwide on ALL major streaming platforms and physical copies are also available. You can also buy the album directly from Bongo Boy Records right here: https://bongoboyrecords.com/kidzandkatzvol1/.
Happy times for impressionable minds, so go grab a copy of 'Kidz and Katz Volume 1' and make your little ones' lives a little brighter today.