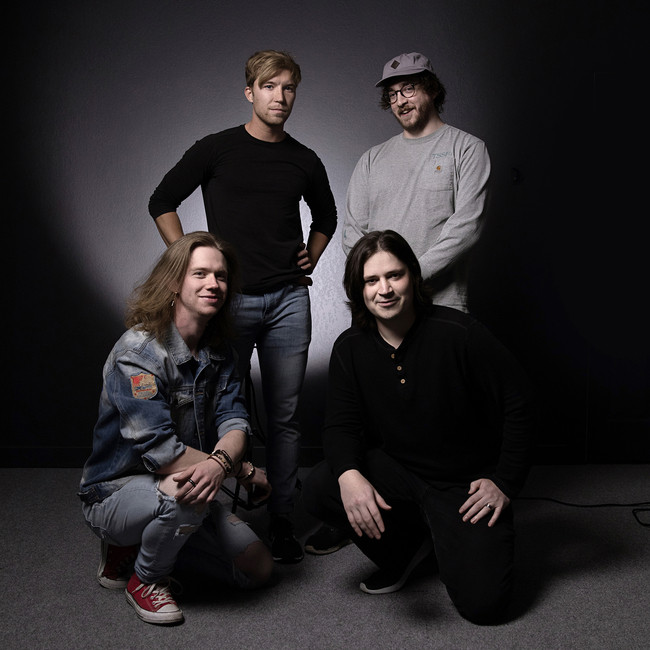 1. First off, tell us a bit about yourselves. Who and what are the band we know as Even Eye?
We all come from different backgrounds. I was born in a small town in Canada but was just 2 years old when my family moved to the states. I moved probably close to 10 times before finally settling in a small town in Idaho. I didn't particularly love it there, but I truly discovered my love for music during this time (probably because there wasn't much else to do.)
Our drummer Nathan Emery mostly grew up in North Carolina. He started drumming in marching band back in junior high. Our bassist Joe Davis grew up in Colorado Springs before coming to Utah State for school. Our lead guitarist Braden Skinner is the only true Utah representative, and he grew up near the Salt Lake area. We all wound up in Logan, Utah for different reasons and the ways we connected were mostly very random. All of our ages range from 22-25. In fact, we were born consecutively in the years 95, 96, 97, and 98.
The reason I moved to Logan was to start recording with my older brothers' friend from high school Braxton Fitzgerald. He used to run a studio on Main Street in Logan. He stopped doing that full time when he got married to better support his family, but still had a lot of recording equipment and knowledge to do it in his own home. He enjoyed the music we were working on enough to briefly join the band and help record our first album. In fact, he was the one who reached out to Aaron Gillespie when Aaron posted about looking for bands to produce. But later decided it wasn't going to work, but still continues to produce and record us.
2. What's the story / meaning behind your band name?
We had finished a writing session in Braxton's basement. We had talked for a few months about what our band name should be but couldn't settle on anything. We
decided to read from what I believe was a Stephen King novel to get ideas. The words "even I" stood out to Braxton. We all liked the meaning behind Even I. All of us in this band struggle with different mental health challenges such as bipolar disorder, borderline personality, and anxiety. So, we thought about the meaning behind it and thought that even I can be great with all of our weaknesses. Even I was actually our original band name. We even released a few not so good demos on sound cloud with that name. It wasn't until a few months later that a co- worker from an old job of mine mentioned he liked the name Even "Eye" better. I agreed with him, and the alliteration looks better. We still hold the same meaning but decided to go with Even Eye. And now we have a cheesy saying that "there is no I in Even Eye." Which is true because this band is very much a team effort.
3. Let's hear about the new EP—what's some of the inspiration behind it, the backstory, and meaning behind the title, Dark, Dead Lullabies?
I came up with the title Dark, Dead Lullabies shortly after recording our first album. I liked the title because I was definitely in a bit of dark place writing a lot of the content. All of the songs are based off of true stories. I feel like those darker stories can be very hard for a lot of people to talk about. That's why I wanted to write about them. I think it's easy to live in a sheltered lifestyle. I grew up in a religious family, so I know exactly how that goes. The truth is that life isn't all sunshine and rainbows. I think it's important to shed some light on what actually goes on out there.
– https://open.spotify.com/album/5c60uJMIOO4Zyl6Y0FwkdZ
4. I understand the EP was recorded in a cabin in Bear Lake, Utah. Can you tell us a bit about that experience, why you chose do record it there, any challenges / benefits you discovered in that process?
To be honest, there wasn't a lot of challenges this time around. We had a good connection to the owner of the cabin, so renting it out wasn't a problem. Part of the reason we chose to record out there was because during the winter out in Bear Lake it is very isolated. It really is an escape from everything. It gets very busy in the summertime, but not the winter. There was a big room to get the drum sound we were going for, and we could crank our guitars as loud as we wanted. I would say the biggest challenge out of all of it was to pack up and leave. There's always a bit of depression that follows after being in such a creative, high energy environment. It took a while adjusting back to the flow of life and going back to our jobs. That's exactly how we felt after recording the first album as well.
5. Who is Cocaine Joe?
A lot of people have asked if Cocaine Joe is about the bassist named Joe in our band. Thankfully it's not. Joe isn't actually the name of the person this song is about. This person, however, is a very real person, and we don't want to reveal their name. More importantly is the message behind Cocaine Joe. This song is a perfect example of how a person will use drugs to replace the void in their life. Loneliness is a big overtone throughout this EP.
6. Is there anything about the new EP or any hidden messages that are meaningful to you, but the audience might not immediately pick up?
I wrote the poem to "Intro," the first song off of our EP about a failed relationship of mine. I wasn't planning to use it at the time. I was just getting my feelings down and it seemed to fit pretty well. Underneath that poem you can hear Joe's voice. He is reading from a book called "Misery" by Stephen King. Yes, we are fans of him. The last line you can hear Joe say is "he gritted his teeth against the images and tried to shut his mind away from them; vivid was not always good. That's a brilliant line from Stephen King, and we felt like it set up the vibe for the entire EP.
7. What should we expect from Even Eye moving on from here?
We have a few singles we recorded at the same time as the EP. They didn't fit the EP. We are planning to release them both before the end of this year. They are less emotionally heavy and more just fun pop songs. We try to mix things up a bit. On top of that we are planning to take our talents to Las Vegas! Our drummer already moved down
there, and we decided we will follow him for greater opportunity. We love Utah and are very grateful for the people who have come to our shows and listen to our music. We plan to come back and play lots of shows here, but we feel like it's the right move to go down to Vegas right now.
8. Any last words?
I want to dedicate Spider Song to my cousin Darby Byrnes who sadly took his own life toward the end of last year. I hope people who listen to that song can understand that it's okay to feel alone in this world, but also to understand that they really aren't.