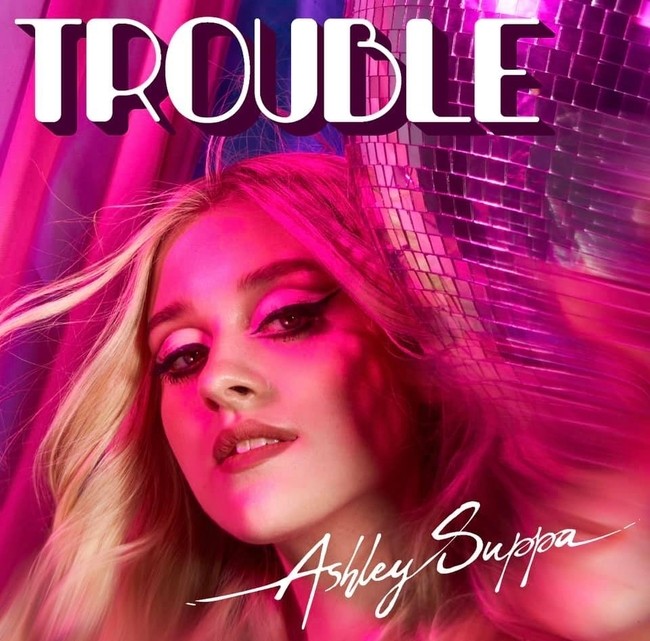 The Pop scene is pretty saturated and it's hard to create something now that stands out. "Trouble," a new single from 18-year-old singer/songwriter Ashley Suppa, might be an exception. The song has a cool retro feel to it, it almost feels like an 80's dance song. The first thing that sticks out is Suppa's voice, rich and beautiful. She has great range and sounds much more seasoned than she is. Suppa's first musical experience was at age 6, singing backing vocals for renowned guitarist Ace Frehley's (of KISS) album "Anomaly". A large feat for anyone, let alone a kid. She clearly hasn't lost her passion for the craft, and "Trouble" showcases that.
"Trouble" started kind of slow and quiet, like a heartbreak ballad. To be fair, it didn't hook me right away, even with Suppa's pretty voice. However, when the whole beat kicked in, changing the pacing, the whole song opened up and became more intriguing. The lyrics invite a lover to come back around and "cause a little trouble." It's not super deep, but Pop music doesn't have to be as long as it's fun, and this song is super catchy. The chorus is especially infectious, ending with lively, punchy "la la la's." Suppa has cited David Bowie and Bruno Mars as influences, and you can feel both of them in this song.
https://open.spotify.com/album/0xT1Jxmc66ImRlL8G711GD
While "Trouble" has that retro vibe, it doesn't sound recycled. The references are there without it sounding ripped off. The song doesn't sound overprocessed, which really allows Suppa's voice to be showcased. Musical composition aside, this girl can sing. She's been working on her own music since she was 15, writing and recording on her laptop. After being discovered by Grammy-Nominated Producer Alex Salzman, she began working on a debut album. Being 18, she has a long music career ahead of her if she plays her cards right. When someone has raw talent and decent focus, they can accomplish almost anything.
If you're looking for something to spruce up your summer playlist, consider adding "Trouble" to it. It works for a backyard party under the stars or grooving your way to the beach. It's fresh and funky, while staying firmly in its Pop lane. Suppa classifies herself as Pop, which is also refreshing. I feel like a lot of artists now are almost afraid to be labeled as "Pop" as if it's a gross cheap thing. But for all the crap it takes, Pop isn't going anywhere and it needs some fresh new artists. Suppa could definitely be one of those artists. Fans have already begun to be hooked, Ashley Suppa has thousands of followers on Instagram and almost 12K followers on TikTok. Being accessible is half the battle on the way to stardom, especially in modern times.
If "Trouble" is any indication of what Ashley Suppa is capable of, I don't think it'll be long before she has a single on the radio, maybe even this exact song. Her voice is incredible, she seems to have a vision and a sense of self, and she was able to borrow from the past and make it modern. She's an artist to keep an eye on!
Julia Albano