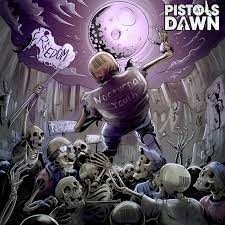 Formed in 2015, in ATL, Pistols At Dawn have been steadily building a following, over the last six years. Their recent release, "Crown" is from their EP, Nocturnal Youth. Their music is inspired by their internal consciousness, and how they view that dynamic with external circumstances and realities. In many ways, they are a traditional Hard Rock setup, with two guitars, bass, drums, and vocals. Their sound is heavy, but they have a distinct ear for melody, as their sound has a better chance at crossover appeal, than some of their contemporaries.
DOWNLOAD: https://smarturl.it/StreamNocturnalYouth
In 2018, they lost one of their founding guitarists, Mike Buffa. This painful experience seems to have been the uniting force that has kept the band, together, in honor of their brother. Many bands will tell you, one of the secrets to success, is staying married to the same group, so to speak. The love, PAD, has for one another, is most likely what gives their music an added quality. They also have a clear and staunch message behind their songs, giving them an extra layer of gravitas and an urgency.
"Crown" is possibly one of the most aggressive songs on Nocturnal Youth. There's an underlying intensity, that walks a tightrope of rage, from the aural assault of the opening riff. The guitars are extra crunchy on this one, drowning the mix in a tsunami of distortion. Chris Pierson's vocals are somewhat blended in, here, making him slightly less pronounced than he is on other tracks. Pierson, was a finalist on Rockstar Supernova, and he can always be counted on to deliver.
"Crown" is described as being a recalcitrant, no thanks, to the self-serving ideologies that exist within the fabric of society. Pistols At Dawn is well served by having a fully defined message behind all of their songs and records. It's apparent that it gives them purpose, and an added drive to reach as many people as they can. Coupled with the fact, that they combine this sense of artistic responsibility with exceptional musicianship, would certainly indicate a winning formula.
The video for "Crown" is simple but effective. The lighting is used to enhance the texture of the subject matter, and we get to see the band performing in real time, so to speak, as a unit. We see two models, covered in gold body paint, from head to toe, flanking the band as they perform the tune. This is essentially to symbolize the concept of idolatry, and the band's subsequent, and ardent rejection of such frivolity. It's a strong statement, made with a relatively modest budget.
If you're going to pick up one Hard Rock record, this Summer, Nocturnal Youth has to be a major contender. The quality of production, and the level of performance is too strong to be denied. Hard Rock is virtually nonexistent in the collective diet of casual music listeners, and for the genre's sake, that needs to improve. Pistols At Dawn is doing their part, to bring the heavy, but not forgetting the soul in the process. The resurrection of Rock is underway, and Pistols At Dawn are becoming masters of that ceremony.
Mark Ryan