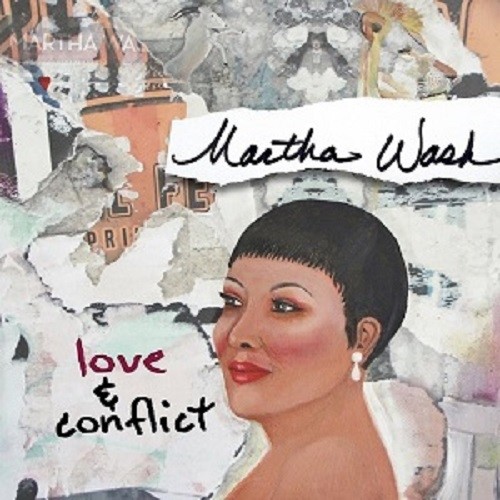 A slow, somber piano and strings begin to play as a bass creeps in and kicks up the tempo. Suddenly, horns flare and the laidback song you thought you were a few steps ahead of kicks itself up by about five gears, sweeping you off your feet — with Love & Conflict's first track "Glamour Flows," Martha Wash is announcing her bombastic return, and we're off to the races. "You know it's true: money won't buy you style; all eyes on you when you light up from inside."
TWITTER: https://twitter.com/Martha_Wash
The opening lines belt out with a specific familiarity and restraint only a true professional vocalist could give to a song, and listeners might be able to trace the vocals from Wash back to her undeniably iconic works of the past with pop-chart destroyers "It's Raining Men" and "Gonna Make You Sweat," (trust me, you've heard them.) The intrinsic building blocks of what made those songs work are on full display here as Wash unabashedly decrees that glamour flows from inner light, her music as empowering as ever.
The funky production of the album-opener lends itself to a remarkably timeless sound, overall, and isn't afraid to play around as it ends the way it began. The piano reenters and the guitar slowly guides listeners into a fade-out; Martha Wash is as talented as she is unpredictable, and she commits this performance to the entirety of Love & Conflict's eight songs. "Like Fire" follows up "Glamour Flows," and while it is a slower pop hit, it reaches further than its predecessor by flexing Wash's core vocal strength in its chorus. The song's production lends itself to being maybe the most single-ready piece on the album with its repetitive chorus eagerly getting stuck in your head without a moment's hesitation. "Don't Forget My Name" serves as another home run on Love & Conflict's bursting tracklist round-up, flaunting Wash's unfettered ego and confidence in the face of the so-called competition.
AMAZON: https://www.amazon.com/Love-Conflict-Martha-Wash/dp/B07Z4WHCP7
There's never a moment's rest across Love & Conflict's brief runtime, but this fact never leaves Wash exasperated; instead, she uses this very thing to her advantage and hones in on the microcosm of short, hit songwriting both as individual beats of expression within an album as well as an overarching album arc. The impression given from the lean, dense approach to musical storytelling is a positive one surely to rub listeners the right way as she crafts a dynamic that swells with the bravado of a concept piece without stooping to such overt, off-brand craftsmanship.
Wash never pivots away from the ageless approach that has been so deeply tried and true for her career thus far, striving to never fix something if it isn't broken — and Wash's career and sound couldn't be further from being broken. Overall, Love & Conflict is more than just a new piece to add to Martha Wash's ever-decorated pop crown; it serves as a core reminder of what a true musician with a knack for creating music as catchy and regimented as any pop veteran could, and only further cements her place in the annals of pop stardom.
Patrick Orr