I am a sucker for true singer-songwriters and Loretta Hagen fits the bill on that note without question! Loretta's latest song titled "Not Now" delivers the goods and takes the listener on one incredible & reflective journey. Loretta Hagen is able to capture the true spirit and sentiment of the song, which is to keep hope alive.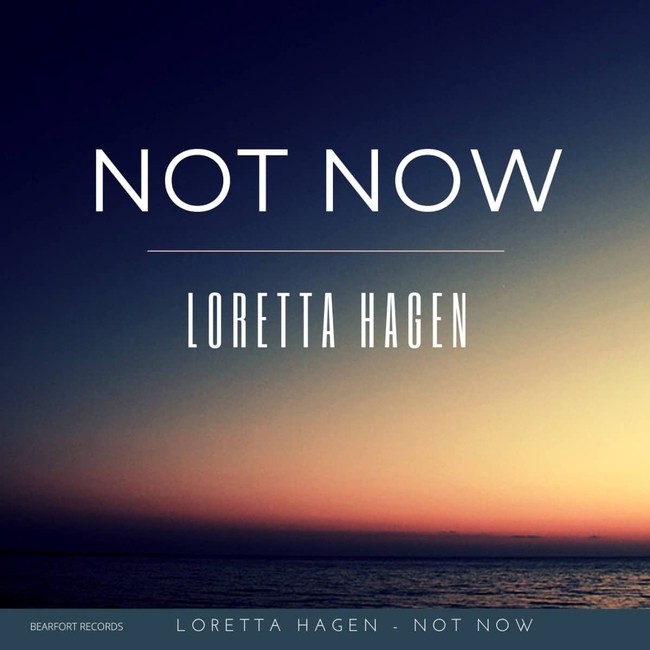 "Not Now" was inspired by the tragic stories of people feeling alone and isolated in hospitals during the recent COVID-19 outbreak. Loretta Hagen was able to turn a dark, dismal backstory into something so pure & joyous. "Not Now" offers bright rays of hope and also proves to be quite resilient with many words of encouragement. Loretta's single isn't just a well-written composition but is also therapeutic in a sense. Strength & courage embodies "Not Now" and highlights Loretta Hagen as a strong, confident female artist. To me, Loretta Hagen currently knows who she is as a person, a musician and singer-songwriter. The music speaks for itself on "Not Now".
With a heavy folk influence right out of the gates, I am immediately hit with a pristine voice as soon as I hit play on "Not Now". I am also picking up on heartfelt lyrics performed with the utmost sincerity along with pleasing guitar melodies. Such lyrics as: "I've been praying so hard for God's helping hand" makes you stop, think and contemplate life for a split second or two. This song is infused with emotionally-charged notes that come across as powerful bursts of audible energy. Loretta Hagen sings & plays with a purpose, which is to ideally help heal the soul through the power of music. "Not Now" is an excellent recording & production that is so refined in sound and pitch. With a highly professional touch in place, "Not Now" proves to every listener out there that Loretta Hagen is one to keep your eyes & ears on.
The single features Loretta Hagen on lead vocal & acoustic guitar, Gary Hagen on electric & acoustic guitars along with drum programming, Debby Maggiulli and Jackie Sierch on background vocals and Teri Avella on bass. "Not Now" is produced by Loretta Hagen & Gary Hagen, recorded & mixed by Gary Hagen and mastered by Scott Anthony at Storybook Sound. The entire team truly knocked this project out of the park with a song to be majorly proud of on many levels. "Not Now" should be on your playlist RIGHT NOW and I promise you will be blown away by Loretta Hagen's shining presence and sheer will power. Be sure to SKOPE out the lyric video right here where you can soak in all the goodness firsthand:
By Jimmy Rae (https://skopemag.com/?s=Jimmy+Rae)