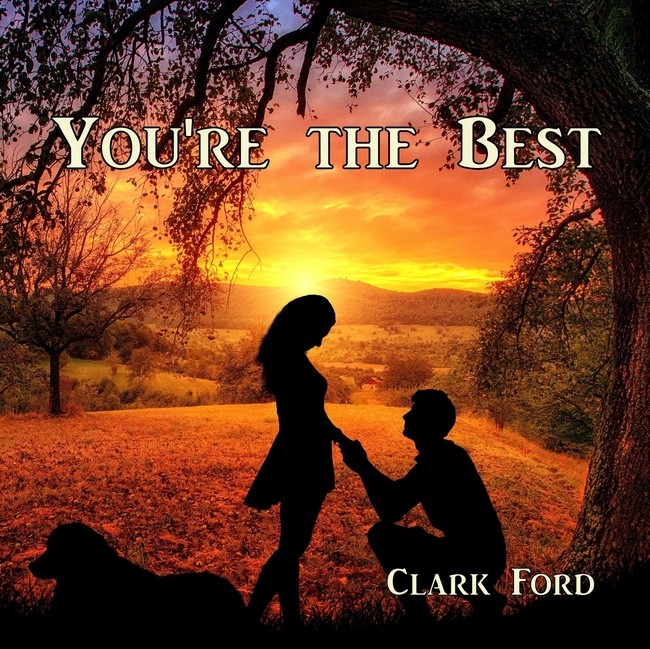 No, Clark Ford is not a car dealership (even though there actually is one). No, Clark Ford is a country artist with a fine new album titled You're The Best. Let's learn a little bit more about Ford and his new music.
Skope: When you write songs, do you need an upcoming album to write songs, or do you just write songs and put them together into an album once you have enough good ones?
Clark Ford: I wrote one of the songs "You're The Best" for a character in a musical, although the song relies heavily on my personal experience! All the other songs were written based on a concept or idea and over a period of years compiled into the album. The first song was written in 2009 ("You're Missing Me").
Skope: I hear a lot of country in your sound. Do you consider yourself a country artist? If not, how would you describe your music?
Ford: This is a country album, arranged and recorded by a studio in Nashville. These songs were written over a number of years, and some are on other albums, but I wanted a genre-consistent album. I write other music, in addition to country: pop, jazz/blues, and sacred. I will be releasing a similar length pop album by the end of summer (fingers crossed) and then in a year or so, an album of retro Jazz and R&B songs. I like country music but am a latecomer to the genre.
– https://open.spotify.com/album/2dhda5escoLsmpo5l6TW5o
Skope: "My Mrs. Claus" is a Christmas song. Why did you include it here, and not on a holiday album?
Ford: I don't have enough Christmas songs for an album, and it is a country song! I have written a second Christmas song, but it will go on my retro Jazz/R&B album.
Skope: The album's title cut is a duet. Was it written to be performed this way? Please tell me more about the writing of the song.
Ford: The song was originally written for male vocal, but my arranger, Chris Folsom, at Underground Treehouse Studios, Nashville, suggested the duet. I liked the idea and assigned lyrics for the parts.
Skope: "A Hangry Man" kind of makes up a new word to create its title. Was this based upon any real experiences?
Ford: Hangry is not my word, honest! According to Google, ""Hangry" Is Now Officially a Word In the Merriam-Webster Dictionary. Hangry (adj.): "Irritable or angry because of hunger."Sep 7, 2018" I wanted to write a "Grand Ole Opry" kind of song and thought the "side dish of me" line was fun!
Skope: How did you get from California to Iowa?
Ford: I grew up in L.A. and went to UCLA (BA Biology). Then I went to University of Iowa in Iowa City for an MS and Ph.D. (Botany and Genetics, respectively). From there I went for a couple of years to UVA in Charlottesville for a postdoc in molecular biology, and then got a faculty job at Iowa State University in Ames, IA.
Skope: Your email is an Iowa State University email address. What is your role there?
Ford: I was a professor in the Genetics and then Food Science and Human Nutrition Departments and retired 3 years ago.
Skope: One song is titled "I'm Not Superman." Is Superman your favorite superhero? If not, who is?
Ford: I loved the Christopher Reeves Superman Movies. My song refers to "flying side by side, and "turning back time," both references to those movies. I don't really have a superhero favorite, but Superman was big when I was growing up, for sure. The song is about the unrealistic expectations guys can sometimes face in a relationship, feeling like they have to be "Superman" to keep her interest…
Skope: What inspired the song "America I Miss You"?
Ford: The song was written in early 2017. 'Nuff said.
Skope: Who are some of your favorite songwriters?
Ford: Hoo boy: Bob Dylan, Willie Nelson, Neil Young, Lennon and McCartney, Brian Wilson, Adele, Carole King, Joni Mitchell, Jo Dee Messina, Garth Brooks, Luke Bryan, Toby Keith, Alan Menken, Andrew Lloyd Weber, Richard Rogers, Cole Porter, Irving Berlin, George Gershwin…
Skope: What is your musical background?
Ford: Both my grandmothers taught piano. One was a cellist in several orchestras. I was a lousy piano student but learned enough piano and theory to write songs. I also play the saxophone but perform neither the piano nor sax. I grew up with rock, jazz, and classical music. I came to country rather late in life. Nowadays, my main instrument is the computer. I bang out a song on the piano, then write a score for the computer to accompany me. I record a rough demo and send it to the Nashville studio that recorded this album.
Skope: When did you start writing songs?
Ford: 2009. One of my first songs was "You're Missing Me." That summer I wrote a full-length musical, incorporating "You're Missing Me." The musical was set in 1972 and was called "1972 The Musical."