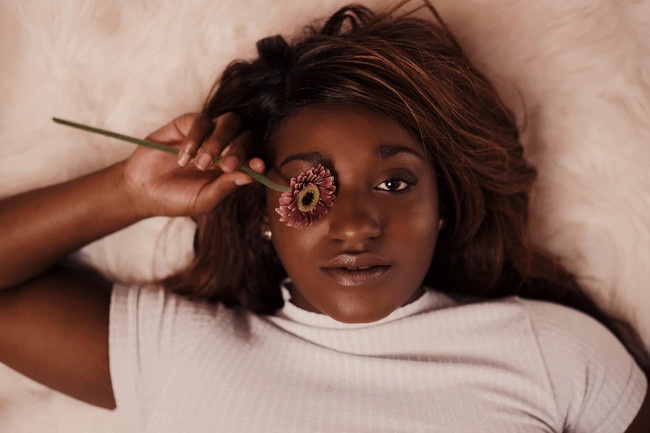 Kingsley is a high-spirited, Indie Pop artist who has a real knack for a melody and for human emotions.  Kingsley is proud to announce she has a new album on the way and the record is titled 'Crying On Holidays'.  "I'm Fine" is the first single off of the forthcoming album and is a personal song based on a past relationship.  "I'm Fine" also includes an official music video that you can SKOPE out right here: https://www.youtube.com/watch?v=iNcWPMbadZE.  Kingsley offers her gift of music to the public and draws people closer through touching & genuine material.  Kingsley majorly connects with ALL individuals she comes into contact with and she loves to make people laugh and smile.  Kingsley said it best here when discussing her eagerness & willingness to lift people's spirits, which proved to me that she is already a rock star in my book:  "It is a gift I was given and I am thankful for it because it has helped me create an environment that is welcoming and safe for all everywhere I go."
J Rae: I read that you have roots in both Chicago, Illinois and Portland, Oregon.  How would you compare and contrast the music scene in these cities?
Kingsley:
It's hard to compare the two, I didn't start my project until I was in Portland but here is my best answer to that – Portland is a great city to incubate and find your sound, they are a very forgiving audience who want to be a part of your journey from the very start. I was lucky enough to have this experience and gain lifetime fans during my early stages, a time when I was still working on vocal control while dancing around on stage and shaping up my stage banter. Portland has tons of opportunities to get you on the stage to work out a live set, and for that, I am so thankful!
Chicago, on the other hand, well, that city wants to see the finished, polished product and nothing less than the best. There are not as many opportunities to move up unless you are in the hype phase of your career. Since I am from there, I had my friends make up most of the crowd and they were warm and loving, but mind you, my friends haven't seen me perform in three years as I was still laying out my set and sound. So, when I finally played in Chicago they got a top-notch show.
J Rae:  How did you get started in music and how does it make you feel personally? 
Kingsley:
Music makes my chaotic world make sense – it brings me answers, gives me the right words to sing or write, it sorts out the bullshit and gives me the truth, it provides me the confidence to be my most authentic self, and for all that, I am so thankful.
As for my journey in music, I joined choir around eight years of age and taught myself guitar and piano. A few years later, I started a family band with two of my sisters called Heart Filled. In 2011, after self-producing my first single "Lie Detector" in my parents' basement studio, I really wanted to be immersed in studying music so I went to Northern Illinois University. This path wasn't easy, yet I completed it successfully, graduating with double degrees in Vocal Performance and Business Administration. That was in 2016 and the rest was history or HERstory.
J Rae: When writing a new song, how do you know you have something special in your hands?  Going off of that, what is that exact moment like for you when you feel you've captured pure magic on paper or in studio?
Kingsley:
The emotions, mannnn, you can feel it in your bones. After I write something so damn magical, I truly feel empty; I feel like I poured every part of me out. I am very thankful for Sean Berahmand, studio owner of Sunset Digs, because he doesn't charge me per "one more take" (hahahaha). Capturing the magic in the studio is a little easier since I can take as many takes as I need. Usually we are like "whoaaaaa, save that take that was good!"
J Rae: I'd like to discuss your latest single, "I'm Fine" that also includes a wonderful music video (https://www.youtube.com/watch?v=iNcWPMbadZE&feature=youtu.be).  This debut single is featured on your upcoming album titled 'Crying On Holidays' due out Spring 2021.  "I'm Fine" is said to be about a past relationship and so wanted to ask if this was a very sensitive and emotional process for you?
Kingsley:
All my songs are pretty personal; this one is the most fun to sing in relation to songs I've written about my love life! It was a moment in my life when I looked around and was like, "damn I'm dope and I don't want to let this guy take any more of my shine…" and when I sing it on stage I hope to radiate that kind of confidence for other folks to embody.
J Rae: I also have to ask if this person you were previously with is aware of the song and if so how does he or she feel about the final take of "I'm Fine"? 
Kingsley:
Every person I date knows I write about them. They understand that I'm a writer, first and foremost, and will always draw from what I am currently experiencing – good and bad. IT is the quickest and healthiest coping mechanism I have mastered in my years. We have come to the understanding that it is my side of the story I am sharing and not to take it to heart. Honestly, if some of my lyrics do bug them, then I hope that will help them see the changes they need to make.
J Rae: You stated that "I'm Fine", along with all of the material on your upcoming album,  "embodies a more mature sound that is shaping into its own".  Would you care to elaborate on that statement and what specifically makes the new single and record more mature sounding to you?
Kingsley:
This project is the first time I collaborated with multiple producers and it was a true gift to move my sound in a style that seemed to fit me more. I am usually the one creating all the ideas for my tracks and work with just one person on every single song. But this time around, I let a bunch of other people come with ideas and it made my music step in the best direction. My bandmate, Amy Evans, even wrote a song for me!
I've always loved cookie cutter pop, but this album steps into real magic, really highlighting my voice in such a way that truly feels and sounds like me. I just have to add this – there is something special about doing everything on your own. BUT you have to collaborate ya'll, it'll change your freaking life, sound, and style for the better.
J Rae: I'm sure the Skope Universe would love to hear more about Kingley and what makes her tick!  What are some of your other interests and hobbies when not writing, recording or performing?
Kingsley:
I love to dance! I started taking classes and really am loving it. It's given me all types of confidence boosts (and ya'll know I already had a big ego haha)!!
J Rae: What do you hope to achieve and accomplish in the near future and not just music-wise?
Kingsley:
Music-wise, I want to have a successful album release show (virtually, of course) and continue to use my music to heal souls in need of healing. Oh, and I would love to have a label distribution deal for my next project, that would be dope!
Personally, I am still healing myself from some childhood traumas and I am aiming to accomplish mental freedom sooner than later. I have spent most of Covid taking out my demons, one-by-one, that have really hindered my days in ways they shouldn't have. I know that I have made incredible changes and in the near future, aim to keep that up.
J Rae: People that know you really well, what do you think they would say about the person/artist Kingsley? 
Kingsley:
I am a low-key goofball. I love to make people laugh and love to joke, be weird and extra. Which you don't always get to see if I'm on stage or on socials.
J Rae: What's something that makes you unique and how do you embrace this uniqueness?
Kingsley:
My ability to make every single person I encounter feel uplifted and appreciated. It is a gift I was given and I am thankful for it because it has helped me create an environment that is welcoming and safe for all everywhere I go.
J Rae: With your new single/video out, "I'm Fine", and an exciting new album on the way, what are the full plans for 2021 and what can listeners expect to see and hear from Kingsley?
Kingsley:
Sooooo many things! My single "Therapy" just came out on February 13 and the music video will be out in early March. Then, I will be releasing one more single/music video before my entire album, Crying On Holidays, is released on my 28th birthday in April.
AND, I just launched a lipstick collection with POC company, Event Cosmetics!! Shifting gears to market the collection, plus we have other products in the line-up to launch later this year!
J Rae: I always like to end on a positive note and so want to ask you what is one thing you like to do that not only makes yourself feel good but also others around you?
Kingsley:
I love doing breathwork/mediation sessions. I am a new teacher so I only do them for my close friends but it is an experience of a lifetime. It raises the vibrations for both parties participating and just overall puts me in a good ass mood.