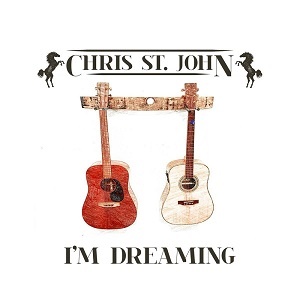 It's no wonder that Chris St. John titled his debut album I'm Dreaming. These songs, a long time in the making, always seemed to take a back burner to a successful law practice. I'm Dreaming features 10 solid tracks that run the gamut of country, Americana and classical sonic journeys. St. John's dreams certainly become a reality and listeners will be hard pressed to find something that doesn't evoke a universal memory or send them into a yearning mood themselves. 
URL: https://chrisstjohnmusic.com/
I'm Dreaming starts out the Americana- country hued "I Need a Horse". What I liked most about this song is the way the lyrics tumble from St. John's mouth. His vocals are clear, warm. He elevates the room with his sincere voice. I'm a cowboy at heart, stuck in an office…there's something missing in my life, he sings. A wonderful violin and a steel guitar that ribbons along the music bed, in between his voice and a backing female harmony. A life in the country is a life that is good, he sings in this charming sing along. In many ways, this song is a nod to the stylings of "Mercedes Benz" from Janis Joplin and Kris Kristofferson. 
From there "You Sang to Me" starts out with a heartbeat and the recorded sounds of an emergency room. Touch the sky, unlock the sun, St. John sings in this mesmerizing track. I felt like this song is about being on death's door and an angel is there to guide you back to life. Then in "Pacific Sunrise" the vibrant orchestra sweeps across the landscape like Thomas Kinkaid's paint brush. In "Dreams Are Free" St. Johns gets back to his best work – he's at his best when he's singing from the heart and wraps his voice around a single instrument. In this case it's the piano. Just like his lyrics I won't forget, the piano is wonderful and unforgettable. 
"I Called You Rose", the next track is the album's lead single. I liked this track, I really did, but found it curious that he chose this as opposed to "Dreams Are Free" or "Two Tender Angels". St. John has a wide stretch of imagination, and his sonic pallet continues to breath different emotional reservoirs. The last group of tracks, including the sophomore single "I'd Send You My Heart", "Your Baby Loves You" and "Peggy O" all give further fodder to St. John's excellent debut showing. I'm Dreaming is full of light and love. He's unforgivingly honest in his approach and well, you can tell he's quite genuine. Even when he's mixing in tracks from different audio sources – which isn't a whole lot – the sounds perfectly fit into his organic undercurrents. 
SOUNDCLOUD: https://soundcloud.com/chrisstjohnmusic
I'm Dreaming makes it all possible. Even in his subtle context and every-man voice, St. John makes the impossible feel achievable. He's an inspiring songwriter with masterful guitar playing skills. He's a gifted storyteller. Chris St. John, lawyer by trade, and singer/songwriter by heart – he's found his way. Finally. I'm Dreaming is a wonderful escape. 
Gwen Waggoner