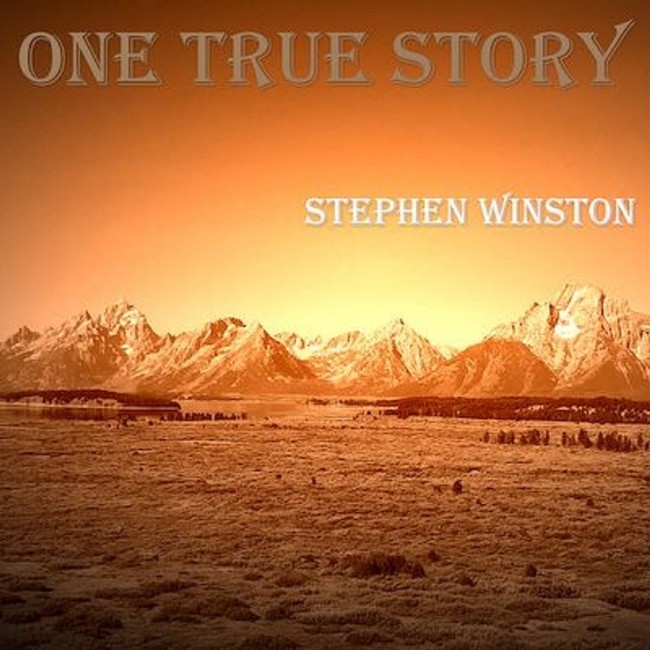 Stephen Winston's new album, One True Story, is about a decade and a half in the making. The interesting thing is that he didn't know he wanted it to be an album, until recently. The songs that comprise One True Story, are a collection of tracks that were mostly composed and recorded between 2003 and 2007. Reportedly, Winston penned many of the songs from One True Story, during a challenging and difficult time in his life, and this record reflects the tone and visceral emotion of his struggle.
URL: https://www.stephenwinstonmusic.com/
FACEBOOK: https://www.facebook.com/stephenwinstonmusic/
Winston cites that he was little more than a novice songwriter at this point in his career. However, it's the rawness of One True Story that gives it a great deal of its character. Accumulating to 11 tracks in total, the music, and stories on One True Story are under the influence of artists we don't hear represented in modern music often anymore.  There is an undeniable Soft Rock quality to the record, that when coupled with Winston's quirky lyrics, and patchy storytelling, make for something truly unique. One True Story doesn't make for the most immediate type of energy, but if you buckle in for the ride, you are sure to find something redeemable in it.
"Behold This Sturdy Bed" is probably one of the more commercial songs on the record. It utilizes drums more prominently than any other track and even features a harmonica, which brings a much-welcomed flavor to the proceedings. Winston muses on about "late-night demons," and when we take into account when he most likely wrote the piece, it takes on a stark and even harrowing aura. We can hear the quietude of his struggle, which in reality is disguising a primal scream. This one would qualify as a must-listen when compared to the entire field.
"Another Side To The Story" has a bit of a different template. It also might be one of Stephen's best overall vocal performances on the record. The songwriter is able to evoke a very specific nostalgia that will resonate deeply with some. This song tells a great story and the idea of which is something that has real pertinence in the modern climate. For example, you could relate it to cancel culture, and the title alone becomes a statement.
The production on One True Story is certainly of quality. Stephen Winston has obviously surrounded himself with the right people, a key to success in any endeavor of life. There are a number of musicians who participated on One True Story, and for Winston and Pfeifer to have assembled and worked in tandem with so many is an impressive feat. As a result, there are a plethora of pleasant surprises on the record, and each song achieves a distinct individuality. Winston, himself, always makes an effort to apply a specific method to his performances, giving an added sense of nuance.
One True Story may lack a premeditated narrative or a binding concept, but it still unfolds as a journey. As you get deeper into the record, you can truly start to feel the scope of Winston's emotional maze. This is not music to play at a party, unless it's a cocktail gala, for a corporate boardroom, and even then the energy is a bit low. Instead, it's a deeply personal, and highly observant collection of songs that provide a snapshot into a life, in the midst of a pivotal shift. You have to wonder what Winston's position on fate and serendipity is, after hearing One True Story.