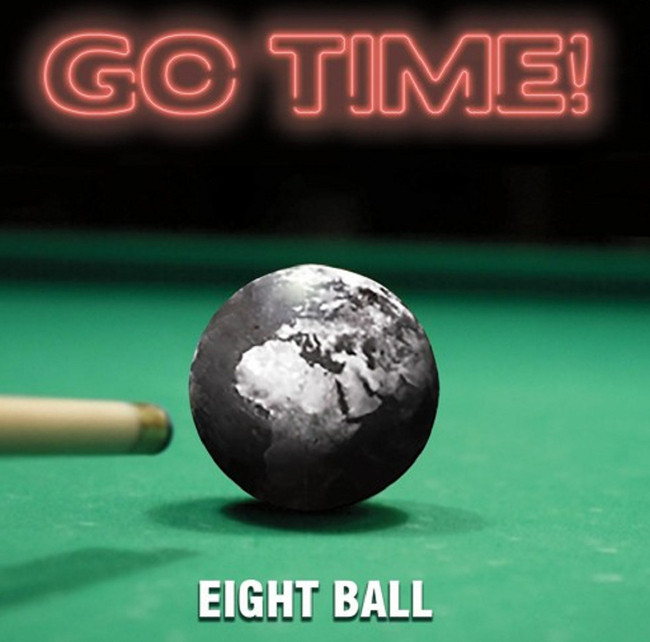 On their newest album, Eight Ball, Chicago based rockers, Go Time, have pushed themselves to new heights. With 20 tracks, in total, this record could have qualified as a double release. Not to repeat any historical mistakes, though, Go Time have opted instead for an epic opus of power pop and more. The band enlisted Mike Hagler for the poducer/engineer chair, whom boasts a resume that includes names like, The New Pornographers. Go Time are well tenured, and their development is evident on the new record.
TWITTER: https://twitter.com/gotimeband
"Closer I Get" employs a 60's psychedelic style organ, that separates it from the pack. It's got a slinky groove to it, and is seasoned with a little ambiguity. Undisputed failure/voices that I hear/bottom of the barrel/closer I get/it is/less clear. A stunning and deeply probed lyric, as you'll find on Eight Ball. I'd classify this track as one of the essentials on the record.
"Upper Hand" lives up to the band's, self anointed, power pop style. It's a relatively straightforward piece, that could use a little more muscle on the vocals. They seem to sneak the vocal in, as opposed to letting it reign, and the results are slightly underwhelming. There's an imperfect, but blistering guitar solo, that fades the song out. There's a few false endings, along the way, that works as a memorable tactic.
Note for note, "Another Time In The Night" is one of the best things on the entire album. It doesn't insist upon itself, yet still packs a punch. It's well arranged, and the drum fills are impeccably timed. This is one to go out of your way to listen to. "Nobody Else" is one of the most transparent love songs on Eight Ball, or more accurately, an anti-love song.
Don't love nobody else/if you can't love yourself. This stands out as one of the most powerful, and poignant, yet simple lyrics on the entire album. It observes the dynamics in a relationship that have shifted from adoration to contention, and it's all due to a lack of self love. So often, we manifest our own self loathing upon others, and in the process, create an unwelcome and unnecessary, plummeting dark hole of strife. Loving , not coveting ourselves, is the seed to a world with greater potential for peace.
AMAZON: https://music.amazon.ca/artists/B002B2ZW9O/go-time
Go Time have succeeded in assembling a cohesive, and more than complete record. With the sheer volume of material, it could have evolved into something that resembles a collection of outtakes and rarities. Though, by constructing a work that is bound to a structure that can identify as a narrative, they have avoided any superfluous self indulgence. Through originality and attention to detail, Go Time can rest easy in knowing that they rise and fall, at their own discretion. They have gone out of their way, to not stand in their own way , which has allowed them to call their shot, on Eight Ball.
Mark Ryan