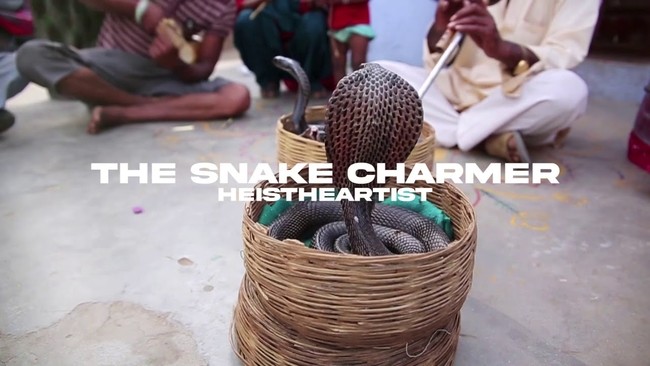 Heistheartist goes for a nimbleness on the aptly named "The Snake Charmer". Mixing tradition and contemporary influences, he creates something that is distinctly his own sound. The bass hits hard going deep into the red in a way that is profoundly satisfying. Without needing to say a single word an entire narrative comes into the fray. Footwork, hip-hop, folklore, all of these filters into the sound resulting in a kaleidoscopic mix that bursts with so much color.
– https://open.spotify.com/track/0GmvhmBHlZbEKUrJcc6Fk4
For the first few moments he throws the listener off, forgoing any sort of inclination as to what is about to happen. Upon the actual start of the groove the song comes through in such a powerful fashion. Beats hit hard as the references to Jlin's output feels somewhat undeniable. Like her work, Heistheartist mixes so many different pieces together, allowing every single tiny detail plenty of room to shine. The whole of the mix additionally has a great deal of lightness about it, partly due to the giddy way the groove grows to the overall sense of purpose the fully dominates. Everything works wonders for the stream of consciousness tact feels quite inspired. By refusing to easily settle into any one category, the hybrid quality adds to its utterly fascinating exploration of heavyset grooves.
"The Snake Charmer" shows off the deft skill of Heistheartist in bringing together a wide slew of different approaches to create something quite beguiling to behold.