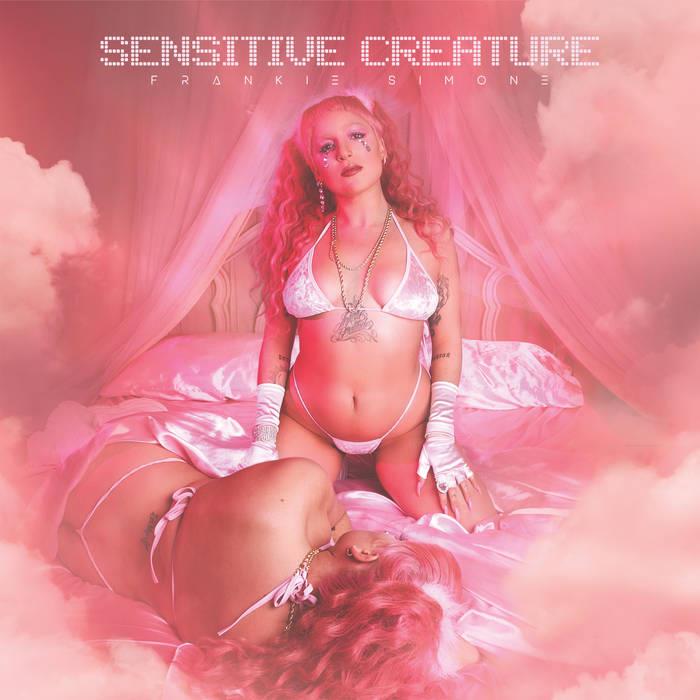 Towards the end of the crazy year of 2020, artist Frankie Simone, known well for their previous single "War Paint" and their EP LOVE/WARRIOR, recently came through with another piece of musical art in their newest album entitled Sensitive Creature. 
If you're in the market to listen to something new and powerful, this is it.
A vast contrast from the previous album name going from a self-proclaimed 'warrior' to its opposite in the word 'sensitive,' this music an ear-pleasing array of electronic pop/dance that feels like it comes right from the depths of the soul, making you want to both dance and weep, mostly at the same time. 
Simone identifies themselves as "unapologetically queer" and has been musical their entire life. Heartbreak is more than apparent within this album, even though it is not recognized as a breakup album since their Instagram account (@iamfrankiesimone) clearly states, "it's about a breakthrough." It dives deep into and reveals a lot of insight on personal relations since Simone and wife Che Che Luna have allowed access to fans about their marriage and new connections, having examined and opened up to the intimacy in polyamorous relations. Part of that process of exploring new ground produced the creation of new music by Simone, and that intimate personal picture is reflected throughout this album. 
The song "On Our Own" was the first single off of the album and even with its upbeat electronica, the lyrics show sadness, and then power with lyrics like We can heal our hearts / If we move to the rhythm and Had to face myself / learn to love every part. Learning to love ourselves when viewed as different has always been a challenge, but this song will grab you and show you that in reality, we're all 'on our own.' The message is clear: we need to be fierce in taking claim of ourselves and being proud of who we are.
Simone is also a featured artist through the music licensing company, Marmoset, which is a place where musicians can collaborate and allow their music to be licensed for various projects with music producers such as advertisements, independent films, commercials, and more. The company is well-known for having the "perfect" song for any artistic need and allows creatives to work directly with their very own in-house team and music studio to create custom songs, and their music has been featured with numerous big-name brands including Netflix, Apple, EA Sports, Google, and Toyota.
The root of all Simone's music stems from Puerto Rican heritage, having grown up in Southern California. They discovered that people in the area never spoke Spanish, but with their parents using it consistently, playing Latin music, and teaching them how to dance the salsa, that is where Simone claims music happened for them – right at home. "I feel like that is my heritage, and that is like at the root of everything I'm creating. And that's how it's intertwined."
The music from this album definitely tugs at the heartstrings, making you feel sad more often than not. There are key changes in unexpected places and well-though, deeply impactful lyrics, such as those found within the song "Follow Me" which is all about social media and comparison:
In this world of, toxic energy
Snatch that waist and
Tone those thighs and
How many followers will you have when you die?
The idea of body image has long been a subject of never meeting expectations, particularly for women way before social media boomed. But since social media is at the center of our lives it really becomes even more 'in your face' with how awful it makes us feel when we compare ourselves to others. But in the end, what does it matter how many 'likes' and 'follows' we have when we die? This song in particular really makes you think about the truth matters in your life, and that we should all work to get away from the self-hate and constant comparison we do with others on a daily basis. We are all unique in our own ways and need to learn to love and appreciate that.
Simone's music has been likened to the similar sounds of artists Ke$ha, Ellie Goulding, or Demi Lovato. As a matter of fact, they cover Lovato's song "You Don't Do it For Me Anymore" and it is a great contender to the original. 
To be accepted and loved is all any artist truly wants, and this album is the perfect remedy for anyone feeling alone. Despite differences, we are all human, and we are all worthy of love and acceptance. Celebrating people from every background, sexuality, gender, body type – this is what this album was made for. So go on and love yourself – and give the album a listen. 
You can learn more about (and become a new super fan of ) Frankie Simone on their website, FrankieSimoneMusic.com.