Aliensdontringdoorbells have been one of the essential newcomers in pop-rock during 2020. We sat down with Christian (keyboard, vocals) and Adam (lead vocals) to find out how they've been spending their Christmas holidays!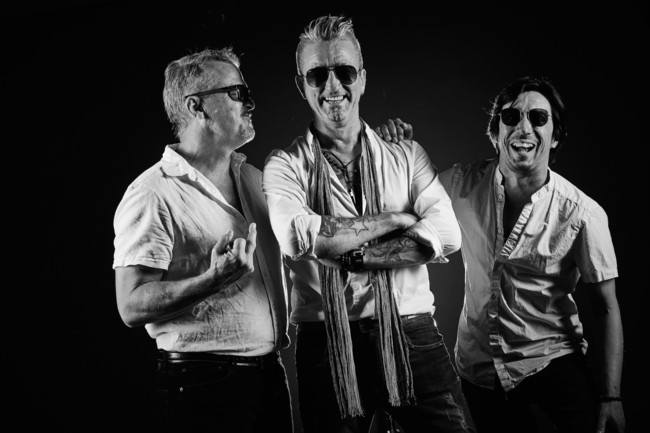 Hi Aliens! How are you all feeling about Christmas this crazy year?
CHRISTIAN: I'm excited as always! It's always a very special time of year, a little more difficult this year than in previous years, but I'm mainly excited because my son is at that perfect age where it is all so very special and out of this world – so seeing him being so happy makes it so special.
ADAM: Looking forward to some festive time off, with some of my family, not all because of restrictions… and loving the thought of being able to watch 'It's a Wonderful Life' over and over..
What have been your favourite non-Aliens moments from the world of music this year? Essential releases from 2020?
C: I enjoyed the new Strokes album, and get excited any time Sufjan Stevens has something new. The Slow Rush by Tame Impala sounded great. I think you really had to delve a little deeper to find exciting stuff this year.
A: I especially loved the acoustic and home versions of songs that came out, plus seeing some of our favourite musicians breaking it down – being personable and reaching out to everyone, in a fun way with Zoom etc. There were some magical moments, and some great collaborations across the board.
How are you spending Christmas this year? What's on your wishlist? On your playlists?
C: At home where I've been the rest of the year haha… A PS5! Do you know where I can get one?? Recently I've been transferring the entirety of the book '1001 albums you must hear before you die' to one large Spotify playlist, which I then put on shuffle… it'll take me a while to complete!
A: Me, well, for those who know me, I'm a very Christmassy person. It's always magical in the King household! Christmas films and music on run constantly. Mainly The Rat Pack style, the Michael Buble Christmas album… Plus I'll be in the studio recording my yearly festive swing show for radio…
What Christmas song would you most like to cover? How would you make it your own?
C: That's a tough one! I like Greg Lake's 'I Believe in Father Christmas' – it's not so obvious so maybe we could get away with it… maybe rock it up a little as it's a ballad.
A: It has to be the Classic, 'It's beginning to look like Christmas'. Just a great festive song that always creates a lot of memories and emotion in me. Making it my own, I'd just add some space dust from our home planet… simple.
What does the future hold? What are your plans for 2021? How do you hope your band and career will progress?
C: Well, there's a huge amount in store next year for the Aliens! We will be promoting our music through a series of tours when we can, we are also recording our second album and hope to perform at festivals in the summer.
A: We have had a lot of discussions, and conferences, as 2020 was mainly leading up to 2021 for us. We have the promotion of Arrival the album to consider, writing, recording and producing a new album in motion already. Collaborations with song writers, also in talks for a support tour, and our own headline tour of the UK… plus lots of festivals – fingers crossed! Some more of our spectacular videos… the list goes on. We have missed out on so much in 2020, excluding the many radio interviews we have done and magazine reviews – thank you all so much! So we hope that 2021 is going to be full of extraterrestrial stuff from #aliensdontringdoorbells