One might think that with a title like 'Here Comes The End Of The World' that the material will be all grim and dreary. But quite the contrary my good people because this new release from Balkun Brothers is everything but dismal. 'Here Comes The End Of The World' doesn't sound so bad after all after you listen to this exhilarating, new album!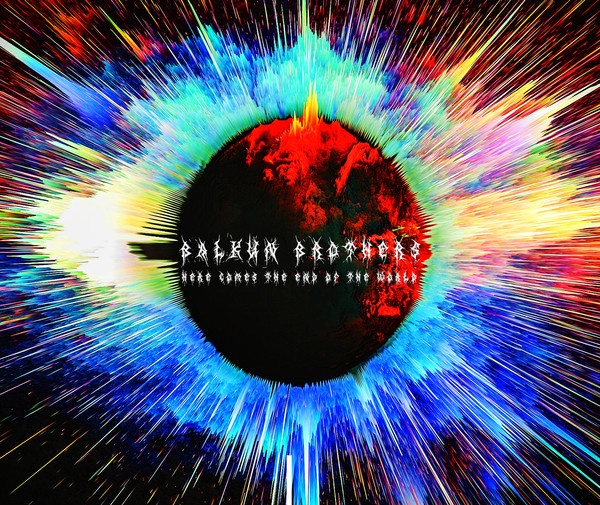 Balkun Brothers are fittingly enough two brothers who have been playing & touring together since 2010. You have Steve on guitars, vocals & thumb-bone bass and Nick "The Hammer" on drums & vocals. It's amazing that just two musicians can create such a powerhouse sound that is clearly evident on 'Here Comes The End Of The World'. With the help of legendary producer Steve Albini (Nirvana, The Pixies, Iggy Pop) and Bill Skibbe on mastering (Jack White, The Black Keys, The Raconteurs), this production was a sure-fire hit and sweet success.
Balkun Brothers are getting back to the nitty-gritty of real, hard-nosed rock and roll that is in your face. Balkun Brothers look to unleash the rock hounds on 'Here Comes The End Of The World' by tapping into that balls-to-the-wall, no-nonsense approach that a lot of today's mainstream music is missing. That true rock 'n' roll spirit of days past is not gone for good with Balkan Brothers not allowing it to die. So with that, 'Here Comes The End Of The World'!
Right away as soon as you hit play, the listener will hear fast-paced, amped-up playing so sound the alarms because "Here Comes The End Of The World". Prepare for hard, edgy riffs on "Shadow Snakes" and then brace yourself for a ferocious burst of energy while you thrash out to "Death (By) Bear". What a rush that hits you on track six, "Gravspresso", and then rock out like you just don't care on the closing number, "Tommy Gun Shuffle". Balkun Brothers are firing off from all directions on "Tommy Gun Shuffle" and the two brothers are not holding back one bit!
I truly appreciate the passion and drive that went into recording this record because you sense that enthusiasm from Balkun Brothers. This new album is an adrenaline-rush, thrill ride that has many exciting twists & turns as the good Brothers do not disappoint the fans. 'Here Comes The End Of The World' is action-packed and is sure to rattle your eardrums. Who said heavy hitting, uninhibited rock and roll is dead? Balkun Brothers sure as hell didn't say that and prove it on 'Here Comes The End Of The World'. Is this the END?…I Don't Think SO!
https://www.balkunbrothers.com/
By Jimmy Rae