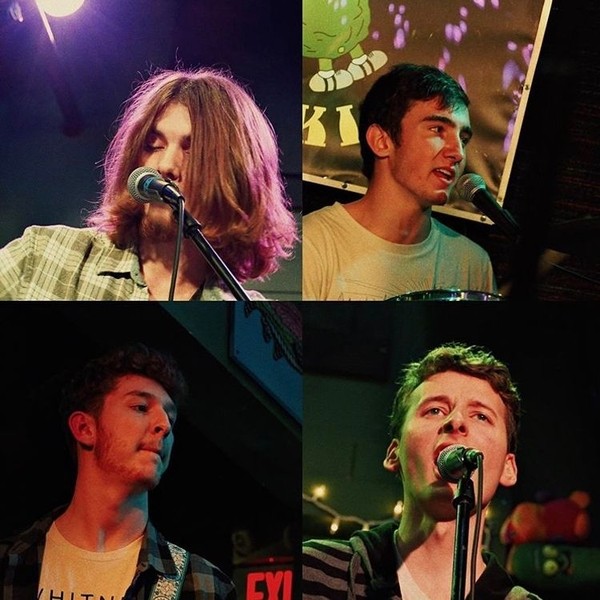 Sunsets From Jupiter certainly has an out-of-this world moniker. The group is actually from the Jersey shore, though. Clay Kunego from the band took a few minutes to tell us a little bit more about the band.
Skope: Your bio mentions how you guys were in cover bands before forming as Sunsets From Jupiter. What were some of the most interesting covers you played? Were these tributes to specific acts/bands, or just playing the hits?
Clay Kunego: Before we formed Sunsets From Jupiter, we played in a cover band called Catalyst, which was formed through a house band program at a local music school. Every now and then we tackled some classic tunes like "About A Girl" by Nirvana, "My Hero" by Foo Fighters and "Santeria" by Sublime, but we always tried our best to push our own personal tastes and favorite bands into the mix. Some of our favorites that we played from our favorite bands and artists were "Little Black Submarines" by The Black Keys, "Karma Police" by Radiohead and "The Man Who Sold the World" by David Bowie to name a few.
Skope: What's the meaning and significance of the name Sunsets From Jupiter?
Kunego: While we were brainstorming ideas for a band name, I saw a picture of Saturn on a soda can which made us all think that a space or planetary name would be cool. We messed around with certain phrasing and different ideas, but we ultimately landed on (something) from Saturn. After that, we threw Sunsets into the mix for the first word and after messing around with other planet names, thought that Sunsets From Jupiter had a better ring to it than Sunsets From Saturn, and with that we had our band name.
Skope: You actually have a song called "Sunsets From Jupiter." Did the song or the band name come first? Also, were you worried folks would compare you to Wang Chung because you have a band name and a related song?
Kunego: The band name came before we wrote the song. In the early days of Sunsets From Jupiter before we had a name, we were just a couple of high schoolers jamming out and writing music in practice space. After we decided on the name of the band, we were writing a song and thought that the band name was a perfect fit for the song, and with that the song "Sunsets From Jupiter" was born.
– https://open.spotify.com/track/3oj4UxtbGZDGSJbZyFuBF7
Skope: What exactly is An Alien Feeling?
Kunego: An Alien Feeling is a culmination of two years worth of playing and writing music with each other. The album took three weeks to record at HiVoltage Studios in Red Bank, New Jersey with Tony Tee Lewis as our producer. The album incorporates different genres, influences from our favorite bands, and encapsulates what Sunsets From Jupiter is at our core. We thought that An Alien Feeling was an interesting album name as we were all sitting down and writing songs. We were able to put a lot of emotion and feelings into the lyrics and music and we were able to express ourselves through our music in ways that we couldn't convey in other ways. So, in some way, the 'alien feeling' in the title is the emotions and expressions that we felt while making the album.
Skope: Where did the inspiration for the song "No TV" come from? With that said, what are your favorite TV shows?
Kunego: One night while we were all hanging out at a friend's house trying to figure out something to do, we decided on trying to find a movie to watch. Since we'd been covering "Another Brick in the Wall Pt. 2" and since Pink Floyd was a favorite among us, we decided on watching the movie adaptation of Pink Floyd's The Wall. The only problem was, we couldn't find anywhere to watch it on, and as we were looking one of us asked, "Why are we no TV?". We all loved the line and as soon as we got back to practicing, we sat down and wrote a song about it and even worked that line into the chorus. "Tell it to me this way, it just ain't what it seems. Why are we no TV all around me?"
Skope: Clarence "Big Man" Clemons, of Bruce Springsteen's E Street Band, had a club in Red Bank, New Jersey called Big Man's West. Did you ever play there in any of your configurations, and if so, did you have any celebrity encounters with E Street Band members?
Kunego: Sadly, Big Man's West was a little before our time, and while we haven't had any celebrity encounters, we have played many venues all over New Jersey that Bruce Springsteen's E Street Band and many other names have played at. Some of those venues include The Stone Pony, The Brighton Bar, The Clubhouse of Tom's River, Bar A and more. Two venues that definitely stick out to us are Jamian's in Red Bank and The Chubby Pickle in the Atlantic Highlands. We played some of first shows at Jamian's as well as a performance for Tom Hanley from WRAT 95.9 The Rat and have had our biggest shows at The Chubby Pickle and The Stone Pony. Rob Dye from Jamian's and Joe Riggio from J.V. Archer entertainment have played roles in helping us establish our footing and getting our name out there.
Skope: Covid-19 has been hell on performing musicians. What have you guys done to keep busy and survive as a band?
Kunego: During the Covid-19 outbreak, we as a band have been doing everything that we can in order to be ready for everything to back to normal again. We've been keeping our social media up to date by supplying our fans with content, we had a professional video shoot done, we were the Jersey Rock Home Showcase Band of the Week with Tom Hanley from WRAT 95.9 the Rat, we've been writing new material and experimenting with new instruments and writing styles and waiting for all of this to blow over so we can get out and play again.
Skope: You're from Middletown, NJ. What's that city like? Big? Small? What – if anything – is it famous for?
Kunego: Middletown is right at the Jersey Shore; it can seem like a big place at times, but it definitely has a small town feel to it. The music scene is really popular here, with us being a short drive away from Asbury Park, Red Bank, and the Jersey Shore. Middletown's music scene stared in the 60's, and since then it's gone through numerous changes, evolutions and developments. We've had many famous acts get their starts in and around the area including Steven Van Zandt from The E Street Band, Springsteen himself and many others. Though iconic local venues like Michael's Restaurant and Pizzeria were a bit before our time, there are still countless other venues in and around Middletown where you could go to hear music of all kinds.
Skope: Another song on the album is titled "Star Walk." Along with the band's name and the album title (An Alien Feeling), it sure seems like science and outer space are big themes. Are any of the band members science geeks?
Kunego: There's definitely some love for science among the band members. Andrew and Dan are both going to school for engineering, and I think we've all got a little bit of love for sci-fi, especially when it's incorporated into music. David Bowie was a huge influence on our music and writing style, and Bowie's love for astronauts, space and aliens working in tandem with music certainly definitely had an impact on us musically.
Official Sunsets From Jupiter Website – https://sunsetsfromjupiter.com/
https://www.instagram.com/sunsetsfromjupiter.band/
Skope: What needs to happen for the band to truly feel like it's a success?
Kunego: We believe that in order for a band to truly feel like a success, all they would need to do is accomplish the goals that they set out for themselves. To us, that means sharing our music with the world and showing everyone what we have to say and what we want to make. In order to achieve this goal, we've been writing new music, increasing our social media presence, reaching out to venues and festivals and pushing our music on streaming platforms.
By – Dan MacIntosh