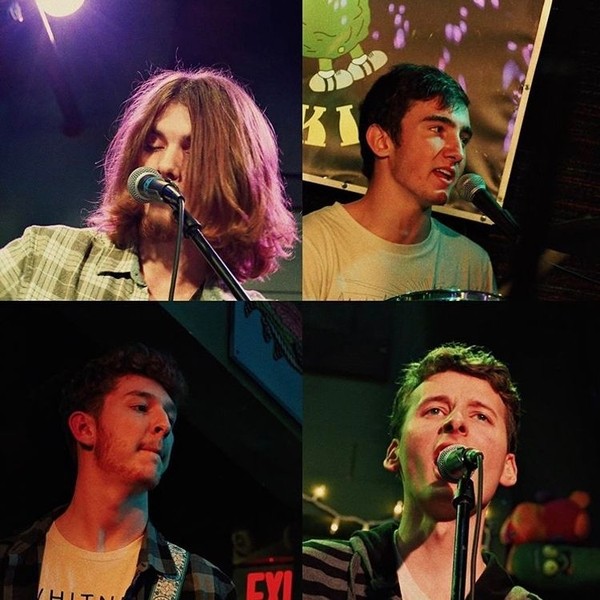 Sunsets From Jupiter create a perfect embodiment of classic meets modern rock on the wild "An Alien Feeling". Passion permeates the whole of the album while they have an expansive, spaced-out quality to their music. Elements of psychedelic, punk, garage rock, and even hints of EDM filter into the colossal mix. Riffs are aplenty as they craft impeccable hooks, the sort of things you'd hum days after hearing them. The catchiness is not limited to the guitar – the vocals truly steal the show as the beating heart of the sound. A yearning quality seems to permeate these pieces with stories of desire dominating.
– https://open.spotify.com/album/1QPtQgH1k0yXYkYRBIQdQa
The full, rich sound comes from a two-pronged approach with Clay Kunego and Danny Mitchinson on guitar. Beyond this, the rhythm section of Andrew Ahlborn and Tom Hicks help to anchor their poetic riffing style. Reminiscent of the creative hard rock stylings of Queens of the Stone Age, they allow themselves a great palette to work with. On the more contemplative pieces they touch upon "Wish You Were Here" era Pink Floyd with their delicate touches working small wonders. Lyricism draws from the imaginative Radiohead in creating a mixture of poetry and storytelling without comfortably fitting into either approach.
After the brief folk moment of "Intro" things begin in earnest with the infectious "Last Week". A truly massive sound explodes on the driving pulsing tempos of "Untitled" where a spirit of defiance takes hold. Truly divine "How to Let Go" has a soulful presence with the piece sprawling out into the infinite, as the dreamy disposition becomes quite welcoming. The commanding presence of "I'm Alright" features an anthemic vibe for the entirety of the track has a majesty to it. With "Sunsets from Jupiter" the song veers unpredictably, going from soft-sung moments to pure passion. Easily the highlight of the album, the title track feels righteous. Bombast introduces the potency of "All on My Mind" where their punk influence feels particularly strong. On "Star Walk" they bring it home featuring a racing finale to close the album off.
"An Alien Feeling" shows off Sunsets From Jupiter's immaculate chops with a sound that teems with life.