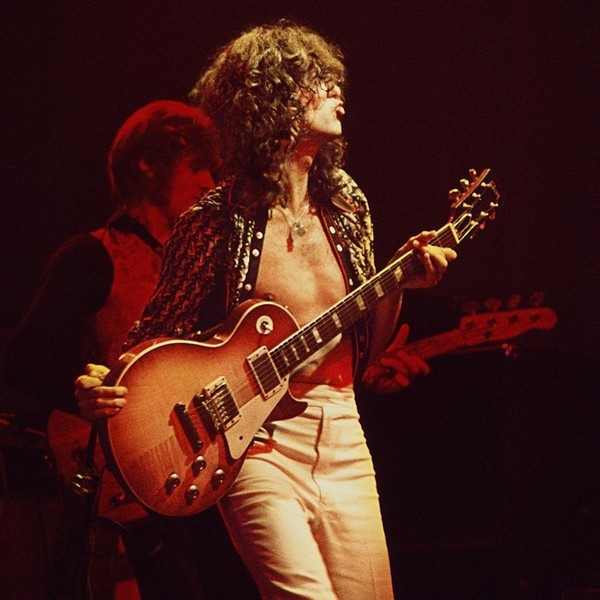 Jimmy Page, (John Paul Jones behind), Led Zeppelin, Los Angeles, 1975.
Photo by David Stratford
The Troubadour, West Hollywood's legendary rock 'n' roll venue, saw an endless parade of colorful artists file through its doors during the '60s and '70s. Inside, America's music industry gathered to watch a dazzling display of glam rock's sequin jumpsuits alongside the psychedelic cowboys in their fringe leather jackets take to the stage.
The avid concert-goer had to be dedicated and persistent to get through the velvet ropes and seated next to these distinguished guests. To smuggle camera equipment past security required another level of commitment that was a special act all in itself.
In 1975, amateur photographer David Stratford got his hands on a scarce ticket for a benefit at the Troubadour with Elton John headlining. It was an exclusive event where 100,000 applicants vouched for 750 seats over a three-night run. While Stratford had seen and photographed the Rocketman at the L.A. Forum, he wanted some close-range shots in the small club.
Outside the venue, Stratford got nervous when he saw security patting down those standing in line. Knowing how to evade scrutiny at arena shows, he came up with a gutsy plan.
"Everybody back then, including me, wore bell bottoms and I had a roll of masking tape in the car. I thought I'd go for it and taped the [camera] body to one ankle and the lens to the other ankle. I walked up, and as they were frisking me, I seriously thought I was going to wet my pants. I was scared to death, but they stopped as they did with everybody else at the thighs."
Stratford, in his late teens, got some great shots of Elton that night at a period when the pop singer's career began to skyrocket. Two years earlier, Stratford was a high school senior when he started taking photos. Inspired by a young student-teacher who had just returned from Vietnam, opportunity rolled out quickly.
"I was going to a Zeppelin concert and he said, 'Here, borrow my camera.' I came back and just saw these photos that I had, and was hooked on it."
After that Stratford would go on to take thousands of photos between 1973 to 1976, committing to film The Rolling Stones, David Bowie, Bob Dylan, Simon & Garfunkel, Stevie Wonder and numerous other high-profile artists.
How he operated, however, was vastly different from professionals of that era. He never had a camera of his own, seldom got a photo pass, bucked all protocol, and was propelled by a freewheelin', DIY, shoot-from-the-hip spirit.
"To this day I have never really had any photography training. I'm a music fan, and I got up there with a borrowed camera and would fight my way to the front to get a shot or two."
In big arenas, Stratford would almost always buy the cheapest tickets in the upper bowls, then spend the night working his way right to the front of the stage. Being that close allowed him to seize some exciting moments from rock's great glories including The Who in 1973 when they played to a raucous crowd at the Forum.
"Pete [Townshend] took his guitar and swung it over his head and down on the stage and nothing happened. Then he took it again, swung a little harder and nothing happened. Roger Daltrey walks over to him and is just laughing saying, 'You can't even bust your guitar!' So Pete like spits on his hands, takes the neck of the guitar, and just hammers it down and that guitar just shattered."
A NEW USE FOR THE PICTURES
After 1976, Stratford gave up concert photography, and never did anything with the endless number of photos he took. Then, in 2014, he began digitizing his film and his son helped him set up an Instagram account to share his pictures with a wide audience for the first time. Stratford now has over 10,000 followers on Instagram, including photographers like Ross Halfin.
"Industry people, they're all following me and I'm just blown away."
Stratford's photos have been used in the book "Led Zeppelin by Led Zeppelin." Jimmy Page's partner Scarlett Sabet follows his account, and Page is a fan of the photos according to Zeppelin's people.
A few other upcoming projects have contacted Stratford about using his photos. As he says, "It's hard to find new images of something that happened 45 years ago."
Despite his lack of training in photography, other established photographers have praised Stratford for catching the iconic look of famous musicians
Charles Peterson, a Seattle-based photographer who covered the grunge scene in the early '90s, believes Stratford's photos are well executed.
"The photos are very good in relation to the conceit of him just going as a paying fan. He was obviously very good at finding the right moments, and some great humanistic, gleeful expressions from many of the musicians."
Jim Shive, a New Jersey native known for documenting Bruce Springsteen and the E Street Band during the 1970s, was also impressed by Stratford's work.
"His work looks amazing. As someone that was in the same shows in the same time period, I feel he captured the artists and their music in his images."
Cleveland-based photographer, Janet Macoska, whose work has been included in Rolling Stone and the Rock and Roll Hall of Fame, remarked, "He has some good to great shots. Even an amateur or hobbyist will capture great images if they have a good eye and creative sense." She adds, "I can't imagine shooting as much as he did without wanting to have those photos published in a local newspaper."
But for Stratford, the photos are just half of the story.
"I guess it's not about the skill, it's about the adventure that I had."
You can follow Stratford on Instagram @frommyseat to see his work – 
https://www.instagram.com/frommyseat/
By – Jackson Reed