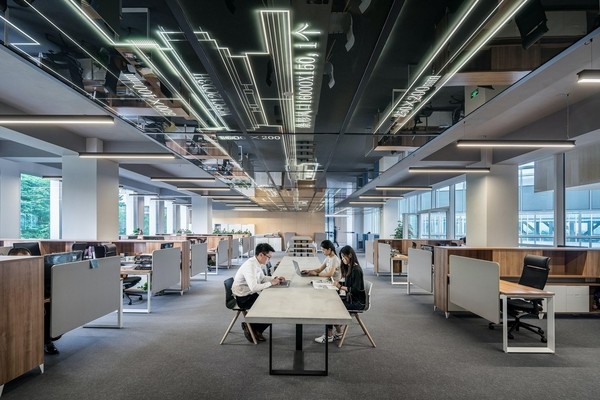 Many businesses have been recently switching from long-leased workspaces to serviced offices. The reason behind this is the unfavourable conditions of long-leased offices. At first, you think that you have found a perfect place, you will pay for the rent and that's it. But after a while, you understand that there are a lot of hidden expenses coming with your office space such as maintenance, refurbishment, internet installation, etc. But if you want to avoid these kinds of problems, you'd better consider new and more flexible solutions such as serviced offices. However, finding a perfect office space for your company that is both affordable and convenient for your employees is not that easy. Today there are various opportunities to choose from but that's what makes our life even more complex. In the UK, there are several areas that are perfect to establish your business and one of them is London Bridge. Yet, as a rule the London Bridge office rent is high. One Avenue Group offers serviced offices in Southwark Street, London Bridge. There are 2-80 desks per office, your employees can also enjoy all the perks of the office including leisure zones, kitchen, bar, private booths, etc.
To make your choice easier, we have decided to gather all the things that you need to know before choosing an office space in London Bridge.
1.  Location
Well, choosing a certain area is the first step towards solving the puzzle. Why it is important to choose a good location for your office. Firstly, it is convenient for your employees, central areas usually offer the best transport options. Secondly, it is good for your company profile. When your client learns that your office is situated right in the downtown, it would be much easier to trust you and consider your company a reliable one. Thirdly, you should also care about how your clients can get there. Of course, famous areas are easier to find. And finally, you should check the availability of nearby additional amenities such as cafes, gyms, train station, etc.
2.  Pricing
Well, after making a longlist of your preferred serviced office providers, you should check whether the pricing meets your budget. First, you need to understand how much is your budget. You just can't put yourself into something that after you can't get out. Although with serviced offices you pay as long as you decide to rent the office space, you'd rather have enough money for 3-12 months depending on your business goals. Think if you can afford a 3-12 month deposit, ask the office provider about hidden costs, and if the office is similar and/or have all the advantages are other spaces in the same area.
3.  Facilities/amenities/size
Usually, we pick an office space that corresponds to the size of our company, the number of employees. if your work requires more space per seat, greater work areas or greater storage locations be mindful that the workspace you pick adapts to your requirements. Additionally, you will need meeting rooms, leisure areas, a kitchen, etc, for you and your employees. A perfect office vendor should have a solution to all this kind of inquiries to meet your business needs.
4.  Services included
The main reason for picking serviced offices over conventional ones is to concentrate on achieving your business goals. You should choose a workspace that will allow you to pay for the lease and leave the rest of the hassles to the office supplier. This is how you will feel the back behind your business by choosing managed offices. For example, these offices free you up from such headaches as office maintenance, equipment, furniture, cable installations, etc. Also, you get administrative support, your guests will be led to your office space by the receptionists. You won't get involved in the legal issues connected with the office space, the internet, phone lines, security, etc.
5.  Creative environment/design
Nowadays, it is highly important to offer modern and premium class design and atmosphere for your employees. So don't just go to the simplest option, look at more advanced ones. Pick an office space that will catch your clients' attention and at the same time will boost your employees' creativity and performance. Give an aesthetic value to your workspace, make both your employees and your visitors feel the warm atmosphere of your office.
6.  High-tech devices/equipment
People tend to choose offices that come packed with the most advanced technological solutions, equipment, and devices. In today's world, when time is the most important thing, it is highly preferable that things are done in a jiffy. So pick workspaces equipped with innovative and most advanced devices to ensure consistent business operations. For example, online booking of meeting rooms, voice-activated assistants, and much more.
What do you think, do these points help you make your final decision on your office space and its provider? If not, then you'd better get started to follow all the steps or go through them once again to make up your mind and pick the best solution for your business.