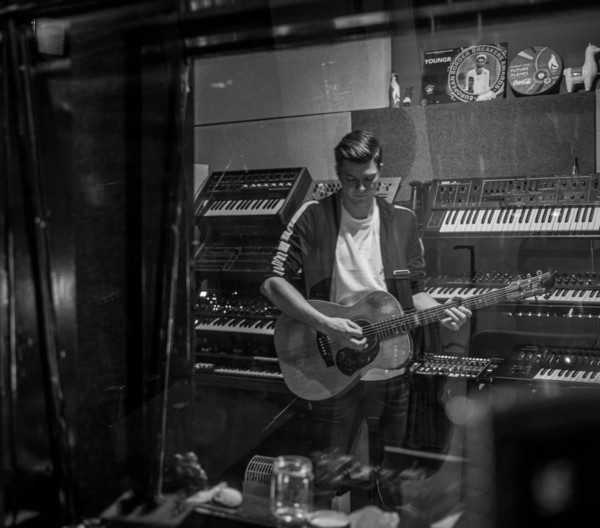 Imagine you're 8 years old sitting in your living room and watching your dad play the guitar.
Mesmerized by his father's musical prowess, Ben Hughes, aka Tall Children, never knew this moment would recreate itself in front of 20,000 people years later. From his early childhood years, Ben's father introduced multiple genres of music ranging from Hip-Hop to Reggae. Learning how to play musical instruments during his early years, laid the musical foundation for his passion. Ben's mother was the invisible protective shield he needed by providing intrinsic life lessons that would guide him through dark moments in the future.
At the age of 10, Ben's childhood was split in "half' via his parent's divorce. Though his parent's split was amicable, the power of that pain marinated inside his heart forever. Ben relied on music more than ever now to understand his torturous pain, misguided thoughts, and future. By the age of 15, Ben realized his life path and music would be the bridge between now and "destiny." Once Ben entered the Liverpool Institute for Performing College, his chief focus was to master his musical knowledge and learn critical business fundamentals. Ben toured with and learned from guitar genius Tommy Emmanuel, and they are still friends to this day.
Ben graduated with honors and became a triple threat in the music industry.
In 2018, Ben launched "Tall Children Ltd," which included a record label, music publishing, film production, and clothing line. The initial music release "Song For You" became an immediate international success.
"Song For You" generated 100,000+ digital music streams from the United Kingdom alone. The public reaction of "Song For You" created a high demand for remixes in multiple formats. Ben released the "acoustic" and Joshua Hunter versions to critical acclaim from music professionals and enthusiasts. Ben released a total of 3 tracks underneath the "Tall Children LTD music umbrella and generated 500,000+ digital streams across all platforms.
Ben Hughes's birthplace is Liverpool, England. Liverpool is the seventh most visited city in the UK. It is noted for its culture, architecture, and transport links. The city is closely associated with the arts, particularly music; the popularity of the Beatles, who are regarded as the most influential band in history, contributed to the city's status as a tourist destination. Since then, the city has continued to produce hundreds of notable musical acts—musicians from Liverpool have produced 56 No. 1 hit singles, more than any other city in the world.
Liverpool also has a long-standing reputation as the origin of countless actors and actresses, artists, comedians, journalists, novelists, poets, and sportspeople.
Ben Hughes is on stage in front of 20,000 screaming fans with Major Recording Artist "RFM," and he's living his dream! The early years of watching his father play multiple instruments reflect on his heart, as he performs "Song For You" and more. Ben Hughes's entire life is rooted in music, and he is the "New Global Force in Millennial Pop Culture."
Key Tall Children Music Career Highlights
BBC Radio 1 Huw Stephens Nationally Syndicated Show featured his track "Dragging Me Down" (https://www.bbc.co.uk/programmes/m0000blt)
BBC Radio/6 Music National Syndicated Show Tom Robinson and 6 Music featured Tall Children Music (Reference https://www.bbc.co.uk/programmes/b0072lbw)
Global Radio Charting Artist on Digital Radio Tracker (https://digitalradiotracker.com/)
Nationally recognized BMI/ASCAP Songwriter (https://www.bmi.com/)