Soft vocals, a searing pair of guitars, a poetically melodic piano and subtle bassline are all churning together in a vortex of harmonies inside of Pretty Awkward's new single "Misfits," but while this latest release is perhaps the band's most complicated by design, it's also their smoothest in finish.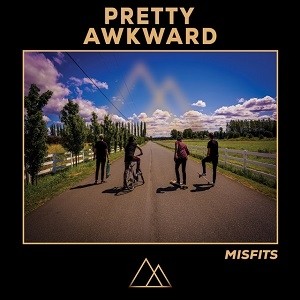 URL: https://www.prettyawkwardband.com/
SMART URL: https://orcd.co/misfits
From the moment we press the play button forward, there's nothing to come between the artists and their audience in this song; instead of putting a lot of sonic boundaries between us and the melodies serving as backdrop faceting, Pretty Awkward are giving us as raw and streamlined a sound as they can put together from inside a recording studio. As its title would imply, "Misfits" is a lyrically rebellious tune, but it's ironically one of the more stably structured pieces of material I've heard from an indie rock band in a long time. This track has bits and pieces of most everything currently missing from the mainstream pop world, and whether you've heard its creators before or not, it's a song that I would highly recommend taking a peek at before the season is over. 
The strings in this mix are what make the harmony come alive more than anything else, but I'm not going to say they're the only component giving us any sort of worthwhile texture. If anything, the strings' emissions are bolstered by the crisply-produced drum pattern in the background, colorizing our singer's statements without protruding on his even-handed flow. The mix favors the vocals over the percussion as the primary tempo-setting device in "Misfits," but this doesn't leave the drum parts sounding out of place or put on the backburner beside the high-value melodic elements here.
There's such a punkishness to the verse, and specifically to the way in which our singer is delivering it to us, that I think it would have been a little silly to put any more pressure into the percussive parts when the vocalist is clearly capable of introducing some physicality to the song all by himself. There's no clear-cut star in this band – everyone is pulling their weight and giving us something that no one else in the group can. 
I just discovered the music of Pretty Awkward this August, but there's more than enough in their three-song discography and new single for me to expect a lot of amazing work out of their camp in the near future. They're offering up a sophisticated balance of pop melodicism and alternative rock moxie in "Misfits," and if they're able to continue cultivating this sound – while abandoning the couple of rough edges they're currently exhibiting – they'll have the opportunity to become serious role-players in this emerging chapter in the ongoing history of both genres.
I'm excited to see what they're going to do stylistically, but no matter which direction they decide to go in, I'll be looking out for more of their bravado and showmanship both in and outside of the studio as whatever is left of 2020 goes on. 
Gwen Waggoner