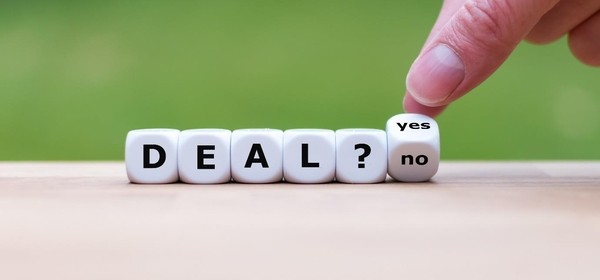 For a show with as large an audience and fan base as Deal or No Deal, it's no surprise that there have been several nail-biting moments to keep us all hooked on the game, as well as a couple of laughable mishaps! And, what happens on live TV, stays on live TV, for everyone and their mothers to see. If the fear of tripping up on the stage or losing for the world to see is a bit too much for you, then maybe get your fix at: https://games.paddypower.com/game/deal-or-no-deal-gfg, where only your dog can judge your mistakes!
Fancy pointing and laughing at those who have fallen before you? Well, keep reading as we take a look back at some of the most thrilling and unfortunate moments to happen on the UK hosted Deal or No Deal.
Never work with babies, animals or boxes!
With any form of live television, you run the risk of things going wrong. Boom mics can fall into shot, lines can be fluffed, but what could possibly go wrong with a couple dozen red boxes?! Well, a lot apparently!
During an episode that was aired on the 13th February back in 2006, the biggest moment was finally upon us. Viewers across the country held their breath in preparation to see that six-figure number, or perhaps even a measly penny, but instead were faces with the blank white inside of the lid! Upon further inspection, the label was found in the bottom of the box and had written on it…1p! Better left inside, we say!
March 2008 also saw another box-related blunder go down in front of our very eyes. A box was chosen and as the lid was gently pulled back, all that was revealed was a completely ordinary inside – no sticker or label to be found. Stunned, our host Noel Edmunds offered the player the chance to restart or simply have the boxes reshuffled. The gentleman chose to reshuffle and Edmunds was quick to tease that the label-less box was in fact meant to be the holder of the grand £250,000!
Make a deal with the banker
On the 17th episode of the show, back in 2005, a contestant named Jennifer Miller became the first person to win a six-figure sum – before even the main draw prize had ever been won! Miller took the banker's deal of £120,000, whilst she was left with just two boxes to pin her hopes on. She was glad she did as well, as it was then revealed that the box in her possession was £750. Think we'd rather take £120,000 too!
1p wonders
2006 saw the first 1p winner, in the form of Nick Bain. Bain played a fairly disastrous game throughout, eventually leaving himself with just £100 or 1p as his final fortune. He vowed never to swap boxes, dubbing his first choice as a lucky sign. Well, we know now that this couldn't be further from the truth, as when the time came, all that Bain was left with was 1p and the title of "founding member of the 1p club". This now consists of 50 unlucky so-and-sos who left the Deal or No Deal stage with just a penny to their names.
—
With all those trials and tribulations to worry about, it's easy to see why most people prefer to play online these days!