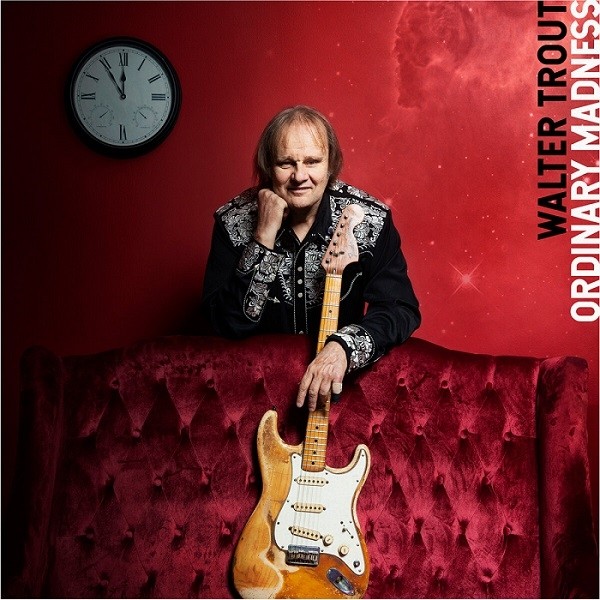 Starting out in New Jersey in the 1960's, Walter has always brought the whole package of writing, playing, and singing on his blues journey. His lengthy trip took him from stage to stage with the likes of Canned Heat, John Mayall's Bluesbreakers, and John Lee Hooker among others. This album continues in Walter's trend of offering the blues with his band, but in a unique fashion. The use of organ, accordion, harmonica, and a few drops of special effects are done sparingly.
The title track Ordinary Madness is a slow haunting type song with his timely licks. Wanna Dance is a really good tune. A great driving melody and guitar work. My Foolish Pride is a slower ballad offering. Heartland has that familiar Tom Petty overtone, but with some added soul. All Out of Tears is that slow BB King style story telling song. Final Curtain Call is another ballad with a touch of harp and a Southern feel. Heaven In Your Eyes is medium tempo with some fast licks. The Sun Is Going Down starts out in ballad form then nicely progresses into a fast pace. Make It Right is a medium paced classically styled blues song. Nice song. Up Above My Sky is a nice ballad worthy of being on a movie soundtrack. OK Boomer is an in your face song, with the delivery sort of reminding you of the Zeppelin.
Blues have always been basically, storytelling. Explaining, complaining, pleading, and every other thing that describes life. Walter has the right idea of how to express feelings in a song musically as well as lyrically and emotionally. You'll always notice some unique use of sound and effects in Walter's music. Bear in mind that he's been at it for decades, and a lot of late comers picked up a lot of his tricks along the line. This release is also available in a signed CD box set, and a very cool signed double red transparent vinyl issue.