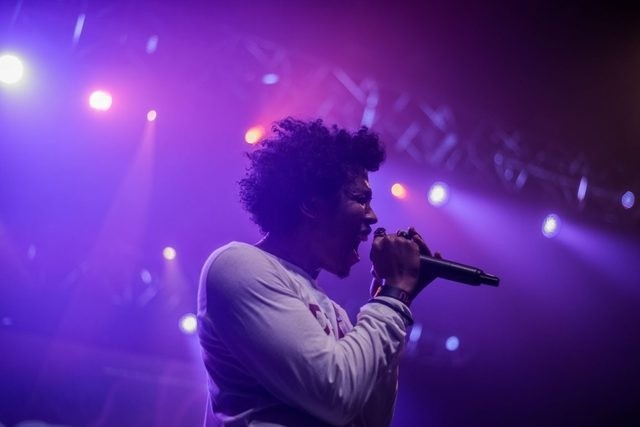 Najee Janey is a singer/rapper, and he's responded to the Covid-19 pandemic wisely – by creating great art. Here, he answers questions raised by his fine new EP, As Is.
Question: The As Is EP is said to have been inspired by the Covid-19 pandemic. In what ways did this worldwide illness impact the writing and recording of this music?
Answer: The fact that Covid was a global thing and everybody was affected, I realized that there wasn't much we could do, outside of what's in our control. Some people even felt helpless and petrified. I made sure to keep that in mind with the writing of the project. I wanted to have some meaningful work that gives people hope and strength whenever they felt down and in need of healing. Good thing about this project is that I got the recording done before all the madness started so the recording process wasn't too much of a hassle.
Q. "Every Star Has a Shadow" is built on an old school funk groove. What are some of your favorite funk artists/songs?
A. Some of my favorite funk artists are of course Prince, Parliament and Funkadelics, Earth Wind and Fire, Sly and the Family Stone, Marvin Gaye, Herbie Hancock, Rick James, James Brown.
Q. Is "Isley" for/about the Isley Brothers? Also, are you a fan?
A. Isley is about no longer taking crap from a girl that kept playing with my emotions. The song title has absolutely nothing to do with the content of the song. However, I am a huge fan of the Isley Brothers.
Q. On "Isley," there's falsetto singing. Is that you doing the high note singing? If so, do you enjoy singing as much as rapping?
A. Yes that is me singing on the falsetto for the hook, but the second verse where there's more singing that sounds nasally, that's Sebastian Mikael. I love to sing on records almost as much as rapping. I feel like when I get more strong and confident with it, I'll enjoy it just as much. Rap will always have my heart though.
DSP – https://soundcloud.com/najeejaney/asis-1-track-ep
Q. What inspired the song "Tired of Being Tired"? Was there any particular experience that made you especially tired?
A. I was in Belize when I wrote "Tired Of Being Tired." I had just got back from visiting the Mayan Ruins. I am of Mayan descent so I felt pretty rejuvenated and charged up. The beat gave me heavy negro spiritual vibes so I wanted to match that energy. I was also inspired by not having the answers. I thought of all the times I was lied too and misinformed, and that's how the song came about.
Q. The track "Uhreevuhderchee" has a uniquely spelled title? Why the unusual spelling?
A. There's no specific reason. As a matter of fact, Uhreevuhderchee was the name of the beat produced by Christian Yoon. It just stuck with me, so I never changed the song title.
Q. "Uhreevuhderchee" includes jazzy trumpet and saxophone. Are you also a jazz fan? Do you play any jazz-related instruments?
A. Jazz is the best late night, ride along music to drive to. I love Jazz. And currently I play the bass guitar.
Q. I read how your dad is a photojournalist. Where might I have seen his work? Did you catch the photography bug, too?
A. My dad is an editor and camera man for Channel 7. There's a lot of things on the news he might've been behind shooting. But growing up, my dad always had cameras around the house, and he would always show me how to look through the view finder whenever using a camera. So naturally I did in fact catch the bug for camera work.
Q. Your dad was also a music lover, that exposed you to a lot of great music. Is he also a musician?
A. Music is in family's blood. He's not a musician but he did grow up taking drum lessons. My grandfather was in a singing group back in the day as well as my great uncles.
Q. "Wild" reminds me of Marvin Gaye music. Is he an influence on it/you?
A. Marvin Gaye is a huge influence on me, I love his sound. Yet, for the record "Wild," he had no influence on me for that song.
Q. What made you want to get to music in the first place?
A. Honestly, when wearing skinny jeans and jerking was the thing, I was always the one amongst my friends who couldn't do the dance that well. So, I took heed to the music from hearing my cousin, who I was living with at the time, record himself before I went to sleep. One night I walked into his room and just asked if I could record something just to try it out. As soon as I heard my voice behind the mic for the first time I fell in love. That's how I got started with the music.