Pop culture today is all about the next biggest thing. Trends rise and die swiftly, and artists have to be innovative with their work to get views. That reality is not the case for Justina Valentine; in fact, her normal daily routine consists of interacting with her millions of fans, dominating the rap game, and starring on MTV's Wild 'N Out. She's a Jersey native who encompasses all things Garden State: she's bold, she's brash, and knows what she wants.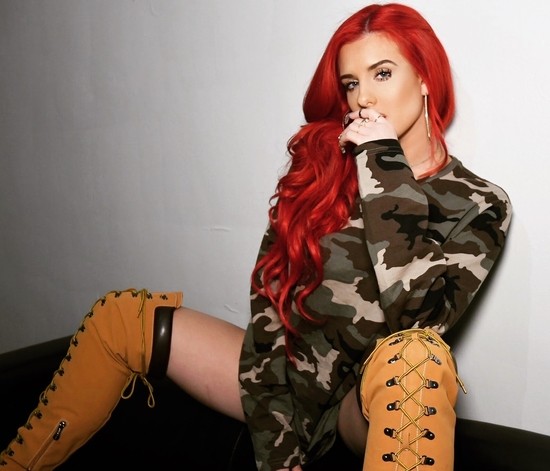 The femme fatale is a spicy lyricist; she manages to allude to every trend and slang term, and her flawless flow goes on without stuttering. Besides having been a prominent cohost on many MTV shows and having her music featured on a spectrum of channels and commercials, she's also a social media influencer; her personality is as sizzling as her blazing red hair.
Although Valentine rides solo in her newest visual "Hide & Seek," she doesn't refrain from reminding people that she is the best of the game, everyone else can take a seat. She controls the beat the second it begins, referencing everything from Roddy Rich to Tiger King. Her audacious outfit matches her hair and her attitude: she's on fire. Glitches distort the visual but don't distract us from the main event. When Justina starts to rap, it's a worldwide occasion.
Two is always better than one, so we're also presenting to you "Just Spit It." She takes the role of Billy from Jigsaw to scare off the internet cyberbullies that act tough behind a screen. The TV she smashes ironically frames her perfectly, unlike her usual TV presence, she stares deathly at the camera with mischief in her eyes.