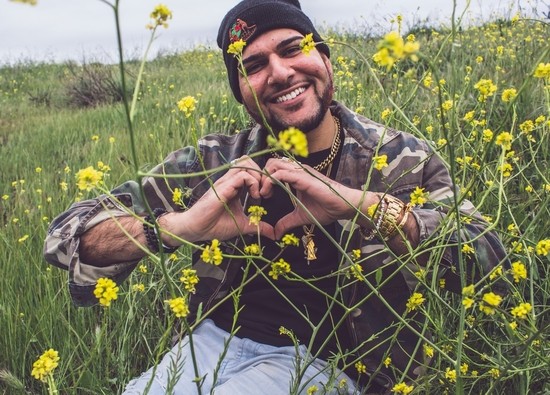 TripleYoThreat shouldn't be here. Why? For starters, he almost took an early exit, getting rear-ended by a semi on his motorcycle – so he's lucky to be walking, never mind rapping. Next, he got into UCLA, was all about it, then dropped out… twice. All that aside, he's up against a challenge few MCs have overcome: Being an Indian rapper. How many Indian rappers can you name? TripleYoThreat – Trip for short – really is at it alone, making it on his own. So what's this dude so upbeat about? Because when you live for the fight, it doesn't feel like a fight at all. He went from having his world changed by hearing Wiz Khalifa, to freestyling with his homies, to recording his own tracks. If you start to see a wave of Indian rappers popping up in the Fader or on your playlists, they'll have songs like this one to thank. Basing his name off the term for entertainment and sports stars who've got skills to spare and god-tier talent, he threw the Yo in there, because, well, it's fly as fuck.
Although he's a black sheep in both his community and his industry, Trip is clearly a man who's comfortable in his own skin. But he knows the importance of staying fresh to death: the outfit feeds the outlook. "Always Lookin' Fly As Fuck", the first single off the Joie De Vivre EP, is a positive jam and a solid intro to a newcomer like Trip. It's all right there in the track's rat-a-tat hook: "I could be nice, I could be dirty, I could be mean, I could be flirty." His persona is all those things, within the space of one song, over a cascading piano loop and a new age trap beat. His vibrant, larger-than-life side comes out in the casual, conversational flow of a man who's happy with what he's got, but always hungry for more. Trip's just letting everyone know to look out for him, and that even when he's taking a breather from the grind, you wouldn't know it by looking at him.
Trip might rhyme about taking the bad days with the good, but this day is beyond good. The clip follows him from sunup to sundown, hitting the gym, putting in work, and heading out to hook up. Videographer Silver Alcid gives the clip an endless summer vibe, all blue skies, green grass, and white sand. But that's all window dressing for Trip staying true to the song title. Throughout his day, he quick-cuts through a walk-in closet's worth of kicks, jackets, chains, casual, business, even a traditional full-length Indian kurta. The man is off on his own but knows his roots. He slows his roll for a minute, joining model and Continental Miss World Philippines USA contender Jossah Brizuela for an afternoon by the sea. Then he's right back to flying solo, longboarding on the Venice boardwalk, off into the sunset.