'Hard Jazz' is the perfect title for this new album by Kenny Carr because the jazzy notes are in place but built around an edgier, Rock foundation. Kenny Carr is an accomplished musician/guitarist who had the pleasure of touring with the great Ray Charles for over 10 years. Since then, Carr has kept very busy on various music projects as this record marks the 8th release for the talented artist.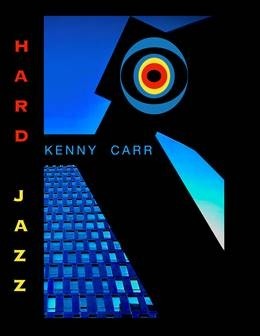 Kenny has a deep history in the areas of Blues & Jazz, but he wanted to shake things up a bit on this new album and throw in a little Rock and Roll for good measure. The result is fantastic and fan-friendly 'Hard Jazz' for your eardrums! There are 10 well-written recordings on this album and each song has its own unique touch. There are many great players featured on the record including Richie Morales on drums. Together, Kenny Carr & company have come up with the ultimate jam session that can be enjoyed and appreciated by people from all walks of life.
As soon as you hit Play, the listener will get hit with serious depth and jazzy rock on "Prelude to a Lead". One will also experience face-melting guitar solos and plenty of hard rock riffs to go around on this number. The title track is up next and what a fun, bouncy beat you are hearing. I say gimme a hefty dose of that 'Hard Jazz'–OH YEAH! Take an audible ride and slide into "Electric Blue" where the melodic waters are fine, so jump on in! Next, prepare to catch a cool, Windy City Breeze along with a BIG "Chicago Ray" of sunshine on track four. Kenny Carr hits you with an inquisitive number on "Question" that will have you stopping for a moment and contemplating everything around you. On track six, head out on a lively walk "Down The Road" where there is no noisy traffic but just good, solid jams. The listener will get a funky fresh flavor on "Funk Love" and then will venture "Out West" as you enjoy all of the rocky sounds along the way. On track nine, the "Answer" is crystal clear and exhibits an honest tone and then Kenny closes the set out in style on "Keep Me Searchin'".
This entire album was just a pure joy to listen to and offered the audience so many enticing layers & dimensions musically. 'Hard Jazz' is rich in substance and offers high-quality material that's not complex in nature. All the right ingredients are in place for 'Hard Jazz' to soar high on the music charts. This skilled guitarist/musician plays like a champ and has that IT factor, so I am now a Kenny Carr fan!
By Jimmy Rae