Circo is a four-piece band from Puerto Rico, one which has been playing together since 2001. Its led by vocalist Jose Luis "Fofé" Abreu, who oftentimes hits some especially high notes during this, the act's fourth album, Adiós Hola. The album's ten songs are comprised of primarily pop music offerings, although "Si Tue Te Ves," the second song in, features a rocking electric guitar intro worthy of Europe's "The Final Countdown." This guitar is mixed with a swirling synthesizer backing. However, after that, the track returns to being more of a ballad, albeit a fairly gutsy one. At times, this recording brings to mind 80s Chicago (the band) music.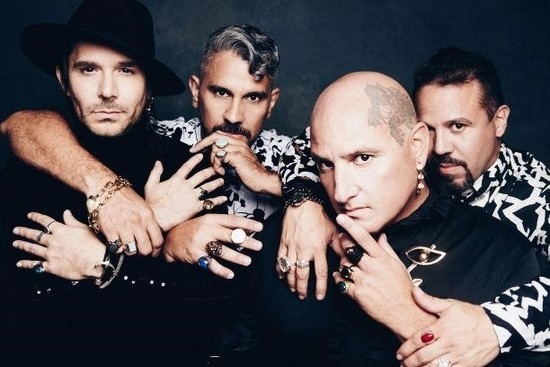 Synthesizer also plays a large role in "Las Joyas." Once again incorporating the combination of synth and electric guitar, this track also builds in big drumming. Abreu's singing on it, especially when the group joins in to sing its chorus, brings to mind heyday Duran Duran music. Again, 80s American/British music plays a big role in this Puerto Rican act's sound. This is a further testament to the universal influence of English language pop music, which is always a positive.
With "Decir Adiós," the act creates a wonderfully percolating electronic groove, which is combined with a sincerely passionate lead vocal. At times, one might feel as though he/she is traveling through musical eras in a time machine. Although sung in Spanish, this track sounds as though it could easily have been played on SoCal's KROQ, back when that famous station billed itself as Roq of the 80s, living up to that billing.
The group reveals its gentler side with "Te Descubrio la Suerte." On this one, the guitars have a much lighter sound and impact. The keyboards help create the track's bass line, while the groove takes on a swaying, nearly-island feel. It also features a multi-tracked chorus vocal. Duran Duran musical comparisons return again to the fore with "Perdidos en el Bosque," which opens with the sort of synthesizer introduction that band's keyboardist, Nick Rhodes, was always so apt to create. At its best, Circo can sound like a Spanish language Duran Duran tribute act, only with different songs, of course. Nevertheless, this comparison is a complimentary one.
Spotify link: https://open.spotify.com/album/4gPgeDTmtRTx2xpyfUfA1X
Circo may be a new name to American audiences, but this act has already been nominated for various Latin Grammy Awards, and was nominated for Rock New Artist at the 16th Lo Nuestro Awards, where it lost to Alessandra Rosaldo, a Mexican singer. It is not a quartet of new kids on the block, that's for sure. The songs on Adiós Hola, instead, reflect the music of experienced professionals. The album's 80s and 90s sound is also a enjoyable throwback to an especially fruitful musical period. In addition to the recording's strong guitars and keyboards, it also highlights memorable singing. Its lead vocals are strong, and its group vocals are also stellar throughout.
https://www.instagram.com/circo_oficial/
For its fans, particularly its Spanish-speaking followers, Adiós Hola is a consistently good effort. Even if you don't speak Spanish, though, you will sometimes find yourself humming along to these songs. You'll likely find yourself saying hola to it, much more than Adiós.
-Dan MacIntosh