Experimental pop artist Lailien, the moniker of classically-trained pianist and poet, Brad Shubat, thrusts the listener into a dreamlike state in the track "Fly With You" from his record TA-DA! A glitter bomb of epic sonic proportions, "Fly With You" is an otherworldly cover of the original Gigi D'Agostino tune. This summer splash of a song is ready for listening consumption.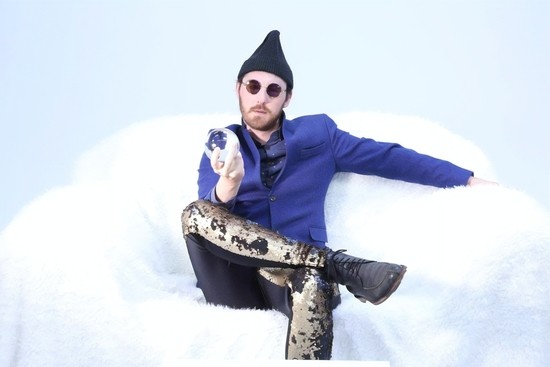 Shubat, a Toronto-based artist, enlists the help of Ruby Perl (vocals) on "Fly With You". The lyrics "I still believe in your eyes, I just don't care what you've done in your life, baby, I'll always be here by your side, don't leave me waiting too long, please come by" are perfectly paired with a music bed full of bursts and domino-like crashes. Trapped pulses and release-and-catch beats blanket the listener, sprinkled with sunshine and disco ball reflections. Super-charged racing sounds, like rubber to pavement are faint, but zip through the song's core sound. The candy-laced vocals are childlike, higher pitched. The words "you-you-you" seem to stretch for days like taffy and looping neon lights. The quirky music bed changes and weaves in-and-out of the lyrics like "I, I, I, I still believe in your eyes, there is no choice, I belong to your life" like an overflowing chocolate fountain of positivity.
That line "I belong in your life" makes it sound like the protagonist is not giving up and won't let any outside opinions change their viewpoint. The listener feels engaged and left to their own devices, would be stuck wandering around the limitless Pandora-box-like music base. Refocused on the lyrics, the emotional resonance is ease and content. These two individuals that are the subject of the song are meant to be with each other and the journey of life has been difficult for one, but not the other. Trust and compassion rings true because of what is being sung.
DSP – https://open.spotify.com/track/596LZGulzhkseoLMyN08Xf
The music bed alludes to this relentlessness and idea of flight. Airy and light. The electro beats also call to mind the crisscrossing and overlapping of a kaleidoscope. Colors galore and a flurry of movement. It's not a whoosh of a feeling, it's a nearly jarring douse of yellows, blues, greens and oranges. Lailien's pallet seems to be an endless galaxy of tones and measures that hypnotize the listener to get up and dance. A bubbling energy summons the listener to the dance floor and it's an explosion of exuberance and the security of being with someone that is offering love and protection.
"Fly With You" is just another layer of paint that has already been splashed on a global canvass. With previous tracks like "Valentine", "Agent Amsterdam" and "Blue Love" showcase Lailien's emergence and growth as an electronic pop extraordinaire. TA-DA!, the aptly-titled record, showcases this young artist's idiosyncratic predicament of not only being the coolest guy in the room, but having to be labeled in the first place. Genres and titles don't seem to fall into place with musician/artist like Lailien. This dimension is already way behind him and he's releasing sounds yet to be discovered.
Gwen Waggoner