Blind Uncle Harry is Bloomington, Indiana singer-songwriter Chris 'Harry' Doran's stage name. According to Doran's biography, he does have a great uncle Harry, who is blind. His band describes its music as "hillbilly hippie shreddin' folk rock." The album, The Gospel According to Blind Uncle Harry, is just that – a stylistic melting pot.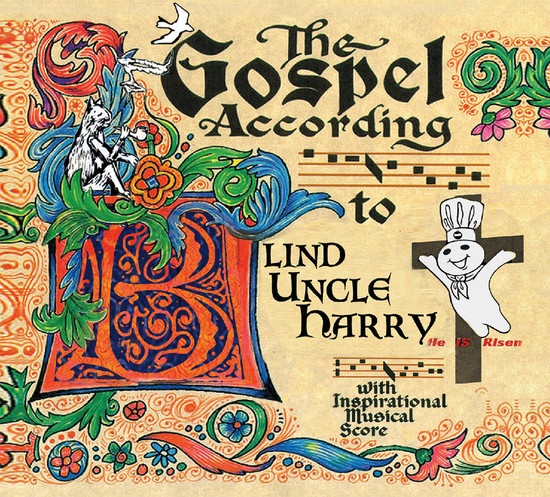 The album's title includes the word 'gospel,' which is a word that can be defined as good news. So, with that in mind, what is the good news Blind Uncle Harry is bringing? Well, it's certainly not the gospel message contained in the first four books of the New Testament, that's for sure. One of these twelve tracks is called "Uh Oh (Sounds Like Somebody Pissed Off Jesus)." That's about as irreverent as the album's cover, which pictures the Pillsbury Doughboy hanging on the cross with the words "He Is Risen" captioning the picture. The song about a pissed off Jesus begins as a vocal-only lament, where its character tells us his tale of woe. About two-thirds of a way through, banjo and fiddle come in, along with a female backing vocal, which ups the tempo to hoedown level.
STREAMING:
&
https://blinduncleharry.bandcamp.com/album/the-gospel-according-to-blind-uncle-harry
This album is more enjoyable instrumentally than it is vocally. The playing is mostly acoustic and has a likably folkish and bluegrass-y vibe. Blind Uncle Harry sings in a warbly, off-key voice, which can make it difficult listening at times. His singing limitations are especially noticeable whenever his songs incorporate vocal harmonies.
Many of these songs are intended to piss off those that love Jesus, more so than pissing off the Messiah himself. However, with our largely post-Christian contemporary culture, one has to wonder if there are even that many believers left to piss off. He sounds to be a disgruntled former churchgoer, who may be reaching out with his music to those that also experienced the same sort of self-imposed excommunication. Furthermore, he sounds to be coming from a far-left political perspective. He expresses some of his political viewpoints with "Song For The Revolution" and "Hillbilly Hippie Haiku Heaven."
The album closes with a real downer called "It's All Fucked." It's a track that pretty much sums up everything that precedes it. Blind Uncle Harry comes off like an unhappy guy, who would rather laugh at all the stupid people and things he sees, instead of crying his blues. Naturally, its lyric includes a shot at President Trump in this song, which has become common these days.
If you find points where you relate to Blind Uncle Harry's disgusted attitude, The Gospel According to Blind Harry may be a sound for your sore ears. It's a focused, relentless attack on the status quo. Even if you're already in Blind Uncle Harry's socio-political camp, his singing voice may still grate on you after a while. It's just not at all easy on the ears. When someone with these vocal limitations insists upon creating a full album of his singing, some might view this decision as indulgent. Whether you like it or not, though, Blind Uncle Harry is dedicated to getting his message out. Now, if he also has an instrumental album in him, we'd certainly love to hear that one next.
https://www.facebook.com/BlindUncleHarry/
-Dan MacIntosh