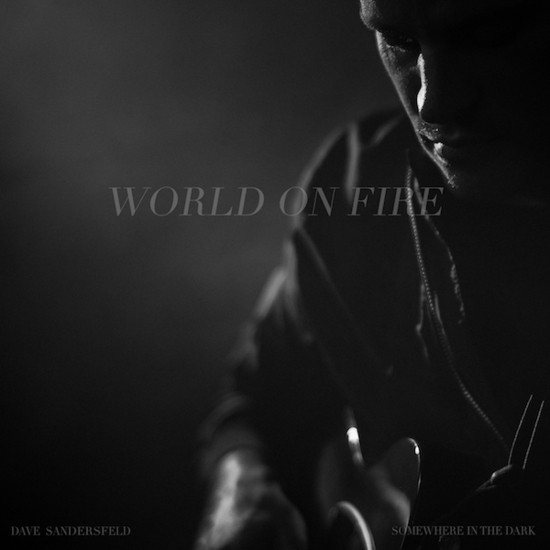 Dave Sandersfeld describes his album, Somewhere in the Dark, as one that "explores moving towards the darkness and finding love within oneself and allowing one to come out the other side with a greater perspective," and one can easily see where his single, "World On Fire," fits into that project's primary aims. It's a folkish meditation on the effort we all put into living and (hopefully) improving our lives.
"World On Fire" is built around an acoustic guitar-driving groove. Sandersfeld sings with a compelling, conversational tone. The chorus speaks to how "we all die trying" and "we all feel restless," yet sometimes we get it right. When Sandersfeld speaks of sometimes getting it right, these phrases slightly echo the famous Rolling Stones song, "You Can't Always Get What You Want," which states: "You can't always get what you want/But if you try sometimes you find/You get what you need." Sandersfeld, however, isn't singing about people getting their wants; instead, he's specifically about people meeting needs.
STREAMING: https://soundcloud.com/davesandersfeld/world-on-fire/s-ypuQ6DZvvHn
When he sings, "Will you set my world on fire," it leaves the impression Sandersfeld is speaking to someone specifically, a lover, perhaps. Of course, even when songwriters write about universal issues, which is some of what Sandersfeld penned with this song, they also usually have someone in particular in mind.
Vocally, Sandersfeld sounds a lot like Australian singer/songwriter Paul Kelly. Sandersfeld doesn't mention Kelly's name as an influence in his bio, but his usage of acoustic guitar and the way his song is urgently strummed and sung, sure does sound like a Paul Kelly song. And that's a compliment because Kelly is extremely good, even though he's not well known.
The song begins ominously with a sustained keyboard chord, before aggressively strummed acoustic guitar kicks in. The track also includes tasteful electric guitar licks interspersed throughout. One can also hear a wordless female vocalist come in and out along the way.
The song's title, "World On Fire," sounds apocalyptic, like it's referring to the end of the world where everything is going up in flames. However, a better explanation of it is a world aflame with effort. When he suggests that another sets his world "on fire," it's a statement about how that person spurs him on to action. We all want to be on fire, but only for the right reasons. Going back to Sandersfeld's explanation of the album, that spur to movement, it is to get us through the darkness and into the light of better place, with a better perspective.
https://www.instagram.com/davesandersfeld/
Sandersfeld's single does make one want to hear more of his album Somewhere in the Dark, just to find out where it fits into his bigger picture. He quotes that album's tile in this song, so it's obvious this song is central and essential to the album's overall goals. It's heartening to know there are songwriters writing with such great purpose. Sure, Paul McCartney, we all love (and sometimes need) silly love songs, but we need so much more than that. This one singular taste of Dave Sandersfeld's work reveals how he is an artist of substance. That alone should set our worlds on fire.
-Dan MacIntosh