When you call yourself Socrates, you set the expectations bar extremely high. Socrates was one of the greatest philosophical minds of all time, so why would a singer/songwriter want to be compared to him? Well, "Lost in a Moment" is not Plato's Dialogue, but a straightforward pop song, instead. And it's a good one.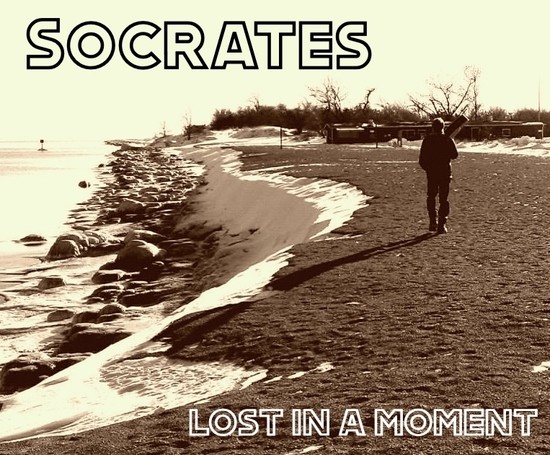 The song's chorus speaks of getting caught up in a moment. Although only but a moment in time, this moment nevertheless leaves an indelible impression; one where this one guy just can't get that one girl off his mind. That happens with memories. We think we'll eventually forget people in our lives, but something – like a photograph in this case – brings memories back like a flood. So, instead of concentrating on the 'here and now,' this person is suddenly transported back to the past. Now, he's wondering whatever happened to that person. What are they up to these days? It only takes a second to move from the present to the past, and this song expertly exemplifies this truism.
The song is a soft rocker, built upon acoustic guitar rhythm, along with bass and drums. Socrates sings with a high, melodic voice. The chorus features a choir of backing vocals. Sonically, the track sounds a lot like 70s soft rock – right down to its melodic electric guitar solo.
Of course, just as he's wondering about that other one, he's also curious if that person still thinks about him. Is that a little egocentric? Maybe, but we all think this way from time to time. We sure like to think we've made an unforgettable impression upon those we encounter throughout life. It's probably only natural. These words beg a few questions of the listener, too. Why does this person from his past have such a hold on him? Is it because his present circumstances aren't all that great? If his life is good, why does he even need to think about the past? Also, all relationships end for a reason. However, this song doesn't say much about the downside of that past relationship. We do sometimes only remember the good in a past relationship. And the more distance we put between the present and the past, the rosier that relationship may appear to us in the rearview.
STREAMING:
https://open.spotify.com/track/6r8sw9UAP9hfVU8bPt7OLd?si=Yt66p1ieR7StarquG8W4WA
-or-
https://soundcloud.com/socrates-kaitson/lost-in-a-moment
Socrates's full name is Socrates Kaitson, and "Lost in a Moment" is a track taken from his Where They Might Have Been album. Socrates is also not from ancient Greece, but Chicago. The album from which this single was taken, was recorded over a three-year period.
Twitter – https://twitter.com/Socothegreek
Everybody can relate to this song. It may not be a past romantic relationship that captures us. Instead, a picture in a photo album or a song on the radio might remind us of a friend we haven't talked to in a while. We do enjoy getting lost in these moments, though, because it's a form of escapism. Perhaps we just want to get away from a bad patch in our current life and need to picture ourselves as younger (and hopefully) and happier. Maybe listening to Socrates will catch you in a moment, too.
-Dan MacIntosh