Hot on the heels of supporting Heaven 17, synth pop rock band Magnetic Skies are set to release their new EP, "Into Paradise", on 20 March 2020.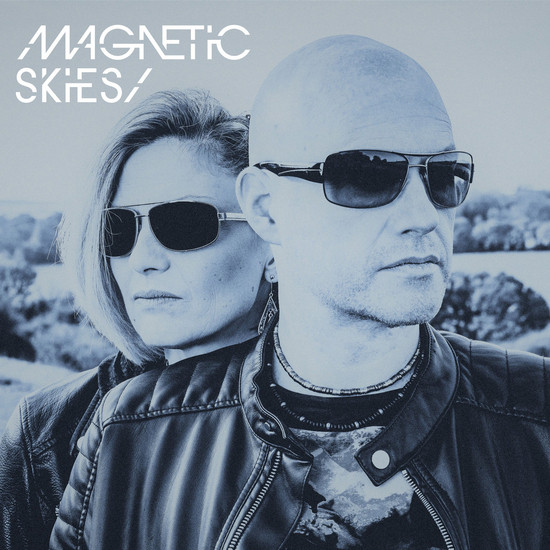 Lead track, "Into Paradise", features Simon's instinctively melodic vocals set against Jo's synth backdrops, evoking the emotionally-charged hooks of some of the 80's defining pop bands, such as Japan, Duran Duran and Tears For Fears. Opening with a Numanesque synth calling-card and with a big, memorable chorus – this is a song about finding redemption from temptation: "I watch the way you move/you're pulling me in/I don't believe it's a sin and the game begins/If I close my eyes I find I'm into paradise".
AUDIO: https://soundcloud.com/magneticskies/into-paradise/s-sz9K5
"Empire Falling", sees the band revisit darker territory, reminiscent of 80s Cure and Editors, lamenting the breakdown of familial and societal bonds: "Nothing to say/truth has taken flight/It could take a lifetime to make this right/I watched a world come crashing down like an empire falling/lost in the speed of life, lost to the sea, it's calling".
Third song, "Ashes To Ashes", is a cover of the classic Bowie song from 1980. Magnetic Skies have put their own stamp on the track, which is a staple of their live show and their only cover version.
Closing track, "Give Me Back That Moment", slows the pace – it's is a hypnotic, dreamy track questioning life and the passing of time: "Did you leave your dreams behind you, lost in time? Did you lose the feeling, did the world pass you by? Are you living now? Give me back the light/give me back that moment". Simon's vocals meander poetically around a repetitive, insistent bass riff, decorated with ambient synthesizers and tremelo guitars.
All the tracks were mixed by the band with Rob Aubrey (Big Big Train), apart from "Give Me Back That Moment", which was recorded as part of the band's sessions with legendary producer Phill Brown (Talk Talk/Bob Marley/Rolling Stones).
The band are set to support Altered Images on their 2020 UK tour.