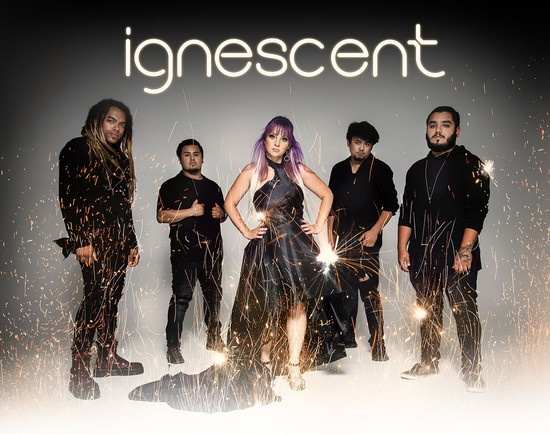 It's normal to see all-male rock bands that bring intensity and power to the scene, but Chicago's female-fronted Ignescent bears the fury, magnitude, and passion of any all-male group and relinquishes it in an authentic and emancipating burst. Their timeline began in 2008 when vocalist Jennifer Benson, lead guitarist Deven Elion, drummer Chris Calix, rhythm guitarist Joey Sepulveda, and bass guitarist Ian Sebastian united. Throughout the years, they've released singles and EPs, opened for Flyleaf and Stryper, and played the infamous Rock Fest in Wisconsin and Vans Warped Tour.
Ignescent is more than just a rock band; they are real people with a combination of great stories. Their main goal as a collective is to entertain and relate while putting on an impressive live show. Paramore and Evanescence are major muses in Ignescent's sound, but they merge rock and pop to create their own style.
Fans find themselves in the plot of a horror film in the music video for "Into The Night." Benson is locked inside a barn while a masked murderer next door is sharpening his ax preparing for his finale. While the band rocks out in the woods, it's revealed that the mask has vices, mental illnesses, and diseases penned throughout the cover, hinting that these are the reasons why Benson sings, "For years I cried myself to sleep / The hurt is all I breathe." She manages to escape and takes the masked criminal out with a log. She flees to find safety and is fortunate to come across a car where the passengers take her in.