On Sunday in the morning when your mother opens her closet and get here Church Suit from the box, and the hat she wear while going to the Church. A Church suit with the hat perfect look for the presence in the Church and your mom looking the nicest lady, is the cherish thing to see.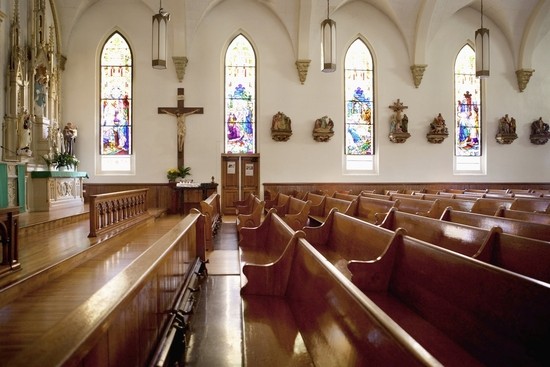 Spontaneous dress for church was frowned upon as a lack of respect for God and other worshipers. Today, wearing casual dress to church is the norm, although more and more people are returning to the tradition of wearing their "Sunday best".
There's nothing that makes you feel better than wearing your favorite dress or suit and going to meet friends for time to pray and sing together in church. Wearing suitable church attire is a chance for you to celebrate at church showing respect for both yourself and God.
Are you in the church choir? Imagine the congregation being awestruck as they see each member of your choir dressed in matching church dresses and dressy hats, and the men in the choir wearing men suits in the same or contrasting color, lifting their voices to the heavens singing songs of glory and praise.
Look Good In Church
Confirmation is a wonderful celebration for young men and women to wear formal wear for their transformation from a child into an adult in their religious faith. Treat your son or daughter to a dress or suit they will be proud to wear for the ceremony.
5 Basic Things You Can Do To Make Your Appearance Look Special
Boys dress clothes should be simple, yet tasteful. Appropriate colors for the dresses and Church suits or man's blazers are low key, natural colors like cream, beige, khaki, ivory, or pastels – keep prints and patterns in good taste and moderation.
Girls' church dress should have sleeves for the religious ceremony and a conservative woman's suit also looks wonderful.
Keep shoulders covered and knee lengths skirts – shorts, miniskirts are too revealing and may cause distractions.
Keep your dress clean and well pressed (iron) for a smarter look.
Be comfortable and be yourself. Don't feel obligated to buy expensive clothing or dress in a way that makes you feel uncomfortable.
Church Suits On A Wedding Day
As part of every bride & groom's wedding day planning process, along with catering, venue, photographer and the all-important suits he wear.
Far too many people leave the wedding car to the last minute, seriously, this is the car that is going to deliver the bride to the church, is there a more important job to start the wedding day?
Apart from the actual trip itself (sit in the car, make sure it's comfortable before you book), there's the photo opportunity when you're being collected and the vital photos when you arrive at the church, always arrive in style and your suit will tell that how stylish you are.
This is the one day in your life when everybody wants you to look like you're being extravagant so why not wearing a fine Church Suit.