Kerry Pastine and the Crime Scene's new single "City of Love", the title track from her latest release, is sharp and focused. It clocks in at a little less than four minutes long and doesn't hesitate bringing listeners straight into its burning bluesy heart. The drums and guitar alike are laden with tasteful echo and lay down a terse yet physical groove that doesn't contain a single extraneous note. The music for this track is sparse and uncompromising, yet not without feeling. The production does an excellent job creating understated atmospherics that the Crime Scene ably sustains for the length of the recording. It is a studio cut, but "City of Love" bristles with live energy. Listeners can expect this track will be a mainstay of Pastine's live set for some time to come.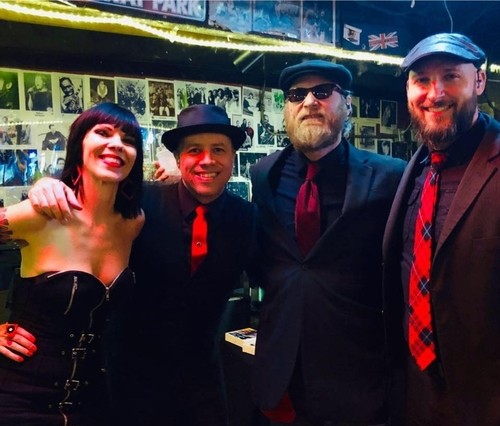 URL: https://www.crimesceneband.com/
Her vocal chops are beyond compare. The blues influence in her singing is unmistakable, but she never leans on it in an obvious or heavy-handed way. She infuses it with a shot of unbridled rock energy, never overwhelming, but still possessing enough prickly attitude to draw blood from any listeners. Her emotive powers are, likewise, unquestionable. There's a sensual physical edginess she brings to the lines that's never cheap or pandering for the listener's ear; instead, Pastine often sounds like she's spellbound by the act of performance itself and oblivious to listeners while still providing them with ample entertainment value.
There's every indication in this song for me that Pastine is a generational talent. I doubt there's anything her voice cannot do. The past Crime Time albums and, surely, the newest album release features a variety of material showcasing the wide breadth of her skills, but Pastine is still young and one gets the feeling listening to this track that she has scratched the surface of her considerable gifts. Future releases will likely open more and more creative vistas for Pastine and her collaborators to explore, but the new single "City of Love" is arguably the zenith of their achievement thus far.
The songwriting crescendos in all the right places and the lyrical content is intelligent and pointed without ever overburdening the track with excessive verbiage. It isn't often that the unerring musical instincts the band and Pastine share as performers translates so well into the area of composition, but they structure their songs with the same confidence obvious in their delivery. Pastine and the band alike are surefooted throughout "City of Love"; it may revisit a number of clichés and tropes common to popular song, but it does so with its own language and style that makes it a must-hear for serious music devotees.
DEEZER: https://www.deezer.com/en/album/110697502?autoplay=true
It is likely that the remainder of City of Love scales the same impressive heights. The accompanying video for the title track alternates performance footage of the band with individual shots of Pastine and band members engaged in various ways; driving, walking around a city, and so on. It boasts the same emphasis on tasteful atmospherics you hear in the song. Kerry Pastine and the Crime Scene have an all-around winner with the single "City of Love".
Gwen Waggoner