It seems that many bands have adopted or have been influenced by the legends of the past. The three man group Populuxe have attracted to the sounds of such acts like Curtis Mayfield, Sly Stone, Stevie Wonder, King Crimson and Zeppelin. It is an odd mix of different genres but that is what makes Populuxe such a welcome sound. The band at first was under the name Blisster but that changed after they released their first demo EP in 1995 entitled "Populuxe". Yet after they gave it some thought they took up the title of the EP, as their band name. The name originated from a social historian, Thomas Hine, who came up with the name to denote the era of industrial design and art from the close of WWII to the assassination of Kennedy. Since then the band has cut five albums yet one is a mini-opera EP; the first two and EP are not available online or digitally (they will get around to re-issuing those at some point).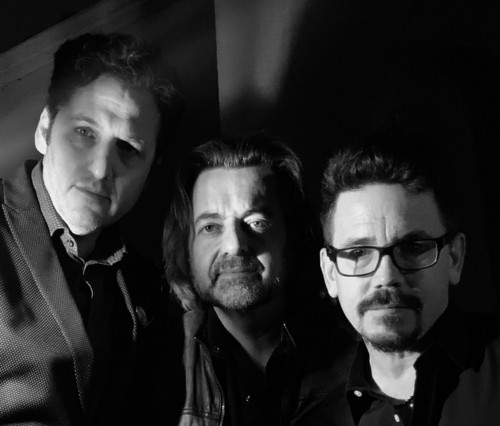 "There's a LOT of music yet to be made, all of which comes from different places, influences, ideas, and we always have an operating principle governing each record: "Populuxe/3" was all about minimalism and doing as much live as possible, and "Lumiere" was about being more obvious. This record is part of that continuum. That said, working from a dramatic arc and multiple perspectives opened up a lot of sonic territory. Getting an hour+ of music to flow and feel just needs a wider palette, and the songs themselves were coming from all corners of my personal influences. Add the musicality and breadth of all of our collective influences in the arrangements and performances, and then add in drama; that's going to make for a varied musical experience. Also, we work together really well, and have developed a kind of shorthand for various recording processes, we can intuit each other as players; that trust and mutual respect adds a lot. Finally, it's our second in our own studio, and in the year since "Lumiere", more recording gear, and resulting detail, was incorporated." – Rob Shapiro
Their new release "Beauty in the Broken Place" is a concept album slightly different than past releases. It borders on the influences the members have had growing up and gives us a 70's rock and R&B fusion. This specific project also has a personal touch to it as leader Rob Shapiro dedicates it to the tragic incident of Tree of Life Synagogue massacre on October 27, 2018.
"The emotional reaction to the Tree of Life synagogue massacre was so deep, especially coming during a time of so much increasing Western instability, and at the end of my holocaust survivor Grandma-in-law's life, that it DEMANDED to be written. It's not a stretch to say that I didn't really have a choice; it just poured out. And it was immediate — I had the title within 24 hours, and the overall idea within 3 days. Even so, writing a long form piece like Beauty in the Broken Place seemed insurmountable, even as the ideas were knocking on the door, and I was afraid that I wasn't going to be able to finish it. But then, the weird thing was, it just kept coming. I would be absent-mindedly plonking on the guitar, the kids would be playing in the room, the TV on, a conversation going on with my wife, and suddenly, boom, a song would start forming and I'd grab my phone to record the idea."
The new release has a potpourri of influences on each track. In the song "Ocean" they utilized a Zeppelin style stuttering/strutting with the track "Marchers" Rob made a playlist of songs to listen to for groove and feel ideas with Earth Wind & Fire, Curtis Mayfield, Childish Gambino, Delfonics, etc. With the darker track "Green Light Morning (Waiting For A Sign)", he looked for a Boz Scaggs/Van Morrison kind of vibe. It is interesting how Rob and the band are always developing new and innovative ways of breaking out new music.
The band was formed in 1995 in Brooklyn, New York but changed members many times. They broke off in 2005 and regrouped around 2010 and have been at it since then. The band is made up of Mark Pardy (drums), Mike Mallory (bass) and Rob Shapiro (guitar, vocals). Mike and Mark have extraordinary musical skills when it comes to cutting basic tracks. As mentioned earlier they have three full-length LP's 1998's "a foggy day in brooklyn", 2005's "deep in an American evening…" and 2014's "Populuxe/3", plus one mini-opera EP, 2005's "Daphne". This is outside of the other two "Lumiere" and the latest "Beauty in the Broken Place".
Even though there is no tour being planned for the new album they are putting together an expanded band to perform the album more fully. They did play a four-song set live online for SCENES a post-thanksgiving event. On their agenda for 2020 is to organize an expanded line-up to do the whole record as a full-on theatrical production, with visuals and everything. They are definitely an innovative band that reminds some of the 80's legend RUSH where three musicians created such powerful music.
Look them up at – http://www.populuxehq.com/
by Nick Christophers