Inspiration comes in all shapes and sizes. In this case, Jae Mansa and Young Marco are giving it to you for real, no hands held, no punches pulled. You wanna live large? You'd better start grinding hard. These two cousins out of North Carolina rock the braggadocio, but they don't have to convince anyone of anything. They know the hustle inside and out. Their last couple singles, "I Swear" and "Blessings," saw love from major outlets like BET Jams. After dropping their break-out single "Fate," they inked a distro deal earlier this year with Roc Nation subsidiary Equity Distribution. Their last full-length, Yung Kings, has racked up over 3 million Spotify plays and counting, while "Fate" hit #41 on Billboard's Top 100 and #4 on iTunes Hip-Hop charts. That's some work right there. Speaking of work, 18-year-old R&B singer-songwriter Young Marco has made major moves at a rapid pace in his Atlanta stomping grounds. For all you young bucks who are new to the game and feeling like the grynd might be wearing you down, throw "Gryndin" on and open up those ears.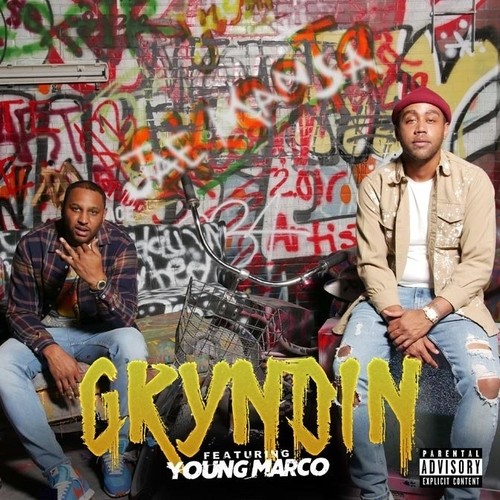 First off, that beat. It's a banging, hypnotic trap loop that's got a spaced-out mind of its own and moves at just the right BPM for these two to keep us hanging on every word without pausing for breath. They rap on what they know and make it look easy. The music's the glue for their wildly different but complementary flows. Their unique way with words makes it difficult to imagine them not sharing the notebook, the mic, and the stage, and seriously, after this track, who would want to? For all those hungry for more, good news: "Gryndin" is the first single off their upcoming EP Relationships & Money, dropping December 6th. Their steady rise to the top is reflected in the humility to be heard amid their boasts. They're still gryndin it out, blood, sweat, and tears, because they may not be starving these days, but they'll never be satisfied.
This clip is a classic hip hop performance piece, with cousins Daron Jaelon Johnson and Brandon Boone's killer command of the camera on full display. They swagger and stare us down, pacing and delivering their vocal jabs like a couple of uber-confident big dogs finally let out of the cage. Young Marco makes three as they light up a bare-bones hangout spot covered floor to ceiling with tags (recalling their roots), clocks (minutes are money), and graced by the presence of a few hot dancers (the trappings of success, a hint at what's ahead). These MC's pack so much into a single bar, our mortal minds have all they can do to keep up without self-indulgent fantasy narratives breaking the spell of this level of lyricism.