The video for Invinceable's "So Loaded" is not going to make prudes think any better of hip-hop music. There's plenty of public drinking and images of scantily clad women. What makes it noteworthy, though, is the track's sound mixture. It's not a rap song built upon, say, and AC/DC or Led Zeppelin samples, the way the style used to be created. Rather, it's built upon traditional Latin music. In fact, a traditional Latin band even appears in the song's video.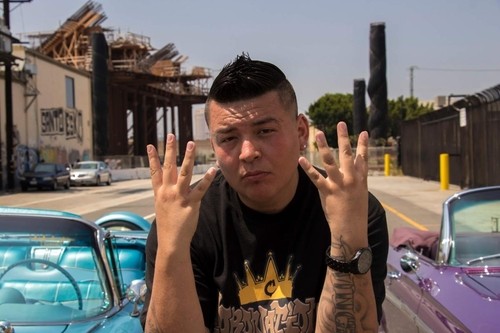 The clip is shot in Los Angeles and begins with the artist walking in what looks like the L.A. River. Those that aren't from Los Angeles, might not recognize this as a river. It looks more like a wash. However, it's a hangout, most likely a real river and a popular setting for street movies and music videos.
Although Invinceable is of Latin heritage, he doesn't rap in Spanish. Instead, he raps – and fast – in English. Unlike African American visuals/songs of yesteryear, which celebrated malt liquor, Patron tequila is the drink of choice for Invinceable and his friends. Those in this video are shown drinking this hard stuff out on the street, at private parties. Everywhere.
Simply put, the theme of this song (and its accompanying video) is drunkenness. He's bragging about being loaded, which is just another way of saying drunk. As a song theme, it's not deep. Unlike country music drinking songs of yesteryear, for example, where drinking was mostly about drowning out troubles, Invinceable treats drinking as an end in itself. Strangely enough, it's something he feels is worth bragging about. It doesn't take any particular skill to drink alcohol. We all need to drink liquids of some sort to live, so humans begin life drinking, in most cases, their mother's milk. However, the ability to drink a lot of hard liquor is a point of honor in urban communities.
There are also references to smoking pot, too, so that loaded doesn't mean alcohol alone. Instead, it's all about getting high, whichever way one chooses. What's missing from this lyric, however, are any consequences. There are no visuals of crashed drunken drivers. There aren't any references to broken homes, made so by alcohol and drunkenness that led to physical abuse. Furthermore, there are no homeless winos pictured in this video. Near the area where this video was shot, is a whole stretch of tent houses filled with homeless Los Angelenos. Many of these homeless people became homeless because their alcohol and drug abuse led to a downtrodden existence.
Mentioning the song and video's lack of consequences, is not to suggest that – in moderation – alcohol is common part of American culture. Hey, what people do on the weekend to let loose is their business. However, young and impressionable viewers might see these images and think everything is cool and harmless with guzzling Patron.
https://www.instagram.com/oginvinceable/
With that said, though, this video is wonderfully filmed. Invinceable is a talented rapper, with the skills to create memorable music. This song probably won't go over well among the white privileged members of society, but those that have walked similar streets to the ones Invinceable travels, will certainly relate.
-Dan MacIntosh