Some musicians win awards. Then there are the very few who have awards named after them. Terry Robb – one of the most decorated and widely respected artists working in any genre –is one of those guys. The Vancouver-born, Portland-based bluesman took home the Muddy Award for Best Acoustic Guitar so many times that the Cascade Blues Association finally broke down and attached his name to the trophy permanently.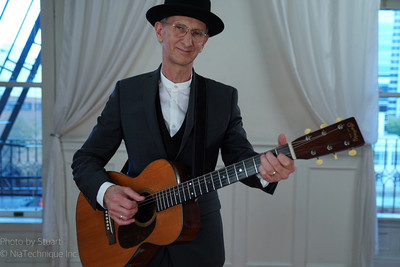 Recognition for his artistry doesn't stop there. The Oregon Music Hall of Famer has been praised by Rolling Stone, Acoustic Guitar, Down Beat, Guitar Player, Vintage Guitar, and Living Blues, which called him one of the nation's finest acoustic guitarists. He's toured the country with Buddy Guy, Steve Miller, and John Fahey, appeared on Late Night With Conan O'Brien, strummed and picked for the crowd at the Rose Garden before a Portland Trail Blazers game, and collaborated with the Oregon Symphony. During his multi-decade run in the spotlight – one in which he's released fifteen acclaimed albums – he's shown himself to be a master of nearly every blues style and technique imaginable. He's played slide, he's played electric, he's finger-picked, he's kept it traditional, he's gone experimental, he's given it to the crowd rough and fiery, he's been gentle and understated, and he's pushed the blues into places where it doesn't ordinarily go. But he's never any better than he is when he picks up his Martin acoustic and lets it rip.
That's what he does on "It Might Get Sweaty", the newest single from his most recent set. Confessin' My Dues is a further demonstration of Terry Robb's flexibility and mercurial talent – and these songs are straight-forward examples of superb axemanship. There's nothing fancy about the clip, but it sure is effective.
Here, we find Terry Robb in his native environment: the recording studio. "It Might Get Sweaty" iis an appropriately titled instrumental workout. The track starts conventionally enough, but soon the notes start coming in a breathtaking cascade. But it's never speed for speed's sake: each phrase is carefully considered and exquisitely and precisely rendered. He leads a three-piece combo through the song, and it's immediately apparent that these guys are absolute pros. Their concentration is total, their dedication is evident, and their chops are unimpeachable. Robb's fingers move on the fret-board with near-supernatural confidence and grace, and the video captures every delirious lick.