Jennifer Hope offers a sweeping, cinematic scope on the intensely emotional "Runnin' With The Devil". With a sound that seems to virtually soar into the sky, she effortlessly ties together elements of classical, electronica, even a hint of metal into the mix. The approach recalls the similar sense of impending doom that Chelsea Wolfe utilizes so well within her own work. By far the true highlight comes from her deep resonant vocals. Delivery has a flawless quality to it, one of a mischievous sense of defiance. Instrumentally vibrant she incorporates so much into the sound even as her voice rises above the rest in the best way possible.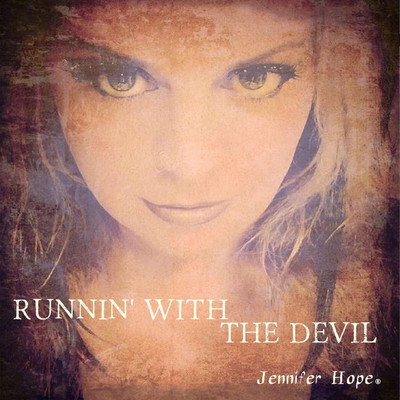 Growling bass introduces the piece. Her voice has an intense surreal sweep to it. With all of it slightly pulled back she opts for a hypnotic take to the sound. Strings go for the resonant as it evolves at its own unique pace. Percussion has an emotional quality at first. Rhythms have their own tact for they have a feral quality to them. Moving further and further into heavier atmospheres the industrial groove builds itself up. Threatening aural violence, the flourishes lend the piece a living, breathing quality to it, one that simply stuns. For the finale she lets it all drop out, simply letting her voice completely and fully take over.
Proving to be a true sculptor of sound, Jennifer Hope crafts a thing of exquisite dark, twisted beauty on "Runnin' With The Devil".