The first time I saw this then unknown ensemble (with everybody doing great solos), was as Boz Scaggs backing band on the Silk Degrees tour. Now, their 40 Trips Around The Sun tour marks the bands 40th anniversary. The band has gone through many lineup changes over the years, but each member of this Toto incarnation, as always, features the best of the best. It helps that the band has individually played on over 5,000 records as studio aces. The band features founders Steve Lukather (Luke) on guitar, and Steve Porcaro on keys/synth, and longtime singer Joseph Williams fronting the band (sharing vocals with Steve). The band is rounded out with standout keyboardist Xavier Talpin (Prince) filling in for original keyboardist David Paich, Shannon Forrest on drums, Lenny Castro on percussion, Shem von Schroeck on bass/backing vocals, and Warren Ham on just about everything else.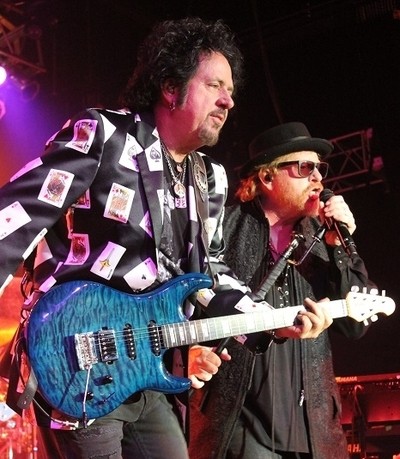 The band played for over two hours running through their hits, getting the crowd warmed up with Devils Tower and Hold The Line, and later the instrumental jam Jake To The Bone, the instrumental Dune (from the movie), the new song Alone, and of course Rosanna. They personalized the show by breaking up the set by sitting on stools and telling some of the background behind the hits. Included were Georgie Porgie, the first song Luke ever sang on, Steve Porcaro's Human Nature (that inadvertently ended up with Michael Jackson), and I'll Be Over You.
TOTO To Call It Quits After Finishing 40th-Anniversary Tour In Philadelphia
Xavier did a great keyboard solo, and provided a bunch of mini-solos throughout the show, as did Luke on his signature Music Man guitars. Percussionist Lenny Castro also did a great solo, and was really cooking during the jam on Africa. Warren Ham was the Nils Lofgren of the show. He jumped as needed, from flute to harp, to sax, to lead vocals. Luke did his usual amazing guitar work on their version of his first guitar hero's While My Guitar Gently Weeps. The last song of the set was the hit Africa. For the encore, the band did Home of the Brave.
When you see Toto live, you can appreciate the level of expertise and presence onstage. One of the keys to the bands longevity and success is that from the beginning, everyone in the band had the freedom to stretch-out and solo their asses off. Steve Lukather ranks up there as one of the top guitarists in the business, and is recognized as such. The tour is a must see, and is being celebrated with a Greatest Hits, 40 Trips Around The Sun, available in two CD, 3LP, DVD, and Blu-Ray issues. My only regret is that they didn't play their version of Weezer's (who covered Africa) Hash Pipe. Maybe next time around!
https://mgmnorthfieldpark.mgmresorts.com/en/entertainment.html
By R.M. Engelman