Admittedly, Twin Lakes' lead vocalist Robert John Baune and his nasal singing tone, can be an acquired taste. Nevertheless, he sings over some tasty, folkish music beds much of the time, which sweetens sonics significantly.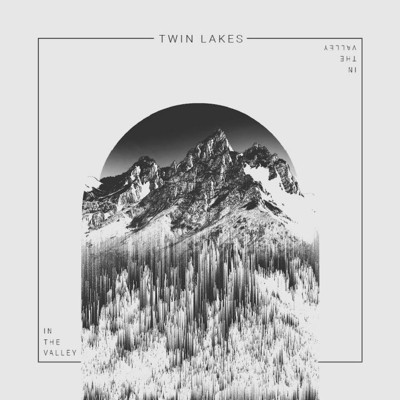 Twin Lakes is at its rarest whenever revving up the rock and roll. "Devil Will Comfort Me" trades acoustic tones for a life-in-the-fast-lane electric guitar-driven rock groove. The group also has downhome fun, including a hearty 'ye-hah' on the country-ish "Other People's Beds." "Picking Scabs," (kind of a disgusting song title, by the way) is a gentle song, as is "I Will Not Bury Myself." If you're getting the impression there is quite a bit of variety on In The Valley, you're right. On "I Will Not Bury Myself," there is also a truly lovely violin solo.
There are moments where Twin Lakes sounds like it's having a touch of a stylistic identity crisis. "Loneliness on Furlough," for instance, vacillates between loud parts and softer sections. It, too, features a violin solo. It also revs up the electric guitar in spots. It's softly folky, but it also wants to rock out. It's a bit of a confused little number, that one. Nevertheless, this album is softer than it is harder. "Best of Nights," another softie, is also jazzy. The guitar part gives the song a slightly jazzy foundation. Baune, when not forcing his vocal the same way he does on the album's title track, sings so much better. However, "Walls Between Us," also a gentler inclusion, finds Baune forcing his vocal. The listener is left wishing he'd let up just a bit. Control is a beautiful tool for singers. It may just be that he is not naturally a rock singer. That's not a bad thing. Neither is James Taylor, and that didn't stop him from having a phenomenally successful career. A singer, after all, can only go as far as his/her voice takes him/her.
Lyrically, Twin Lakes is very much an introspective act. These are inward looking heartfelt songs. They are certainly not, 'Hey, out there! Come along and party with us!' tunes. Instead, you get the impression Baune is looking down much of the time while singing his band's songs. Either that, or he's looking for, maybe, that one audience member that relates to the songs he's singing. Either way, much of this music comes off like bedroom-written songs, performed with a band. Even so, one song titled "Solitude" is also one of the most sociable songs on the album. It's built upon an intricate, lovely guitar groove, which nicely interplays with violin, once again. It may remind you of those times where Fleetwood Mac jams acoustically.
Twin Lakes, this Minnesota trio with its undeniably Minnesotan band name, sure keeps you guessing from song to song. More importantly, though, the group comes off honest and sincere throughout. You may not always appreciate the flavor of any particular song on In The Valley, but you'll never walk away thinking this group phoned it in – for any of these 10 songs. And for that, one should be most thankful.
http://instagram.com/twinlakesband
-Dan MacIntosh