A stunner of an opening strum officially welcomes us into Yours Truly, Me…'s first song, "Woe Is Me," and singer/guitar-slinger Alex Lopez will use the next four and a half minutes that follow to show us how powerful a blues melody he can pump out when he gets into a sexy groove with the bass. This introductory tune isn't as sizzling a BBQ-flavored blues jam as the following song, "Tush," is, but even the best songwriters in the game today have a tough time measuring up to the high standard set by ZZ Top. "Take Me Back Home (Redux)" stumbles into focus out of the fiery remains that "Tush" leaves behind, and although it's built on the back of a drunken stagger, its vocal harmonies are perhaps the most sobering and evocative of any on Yours Truly, Me….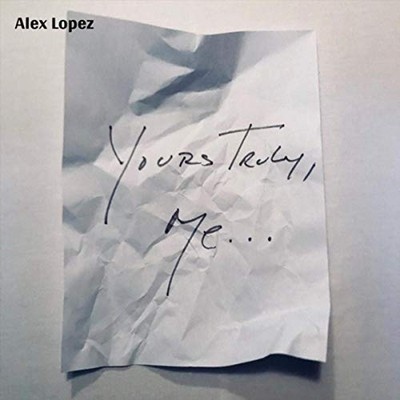 URL: https://www.alexlopezmusic.com/
"I'm a Working Man" brings the tempo up quite a bit from where we leave off in "Take Me Back Home (Redux)," and along with "I'm a Losing It (Redux)" makes for the most thrilling pop content of the record. Every song here is a little different, but there are a few that share somewhat familiar compositional traits, the most common of which being an electrified, almost West Coast-style blues tonality. "I Love You Blues (Redux)" is my favorite ballad on Yours Truly, Me…, but as magical as it is on its own, I think that it's made all the more engaging in the wake of the powerhouse combo of "I'm a Working Man" and "I'm a Losing It (Redux)."
There's a classic rock sensibility to "I Can't Stop (Redux)" that doesn't exist anywhere else on this album, and yet because of the seamless transitioning between the different songs, it bleeds into the piano-clad "I Will Miss You" like a concert medley. "Chase My Blues Away" is definitely one of the bigger standouts in this set of songs, and not because of its graceful string melodies exclusively. Lopez is singing from the bottom of his heart in this track, and though the rollicking beat of "All I Really Want Is You" and starry-eyed duet in "Sinful" are just as unforgettable in the grander scheme of things, there's something that stuck with me about the vocal work he contributed to this song in particular.
CD BABY: https://store.cdbaby.com/cd/alexlopez26
"Cheating Blues (Redux)" brings us full-circle in Yours Truly, Me… by reinvigorating the rhythmic vibes of the album's first few juggernauts, and in a flurry of percussion and feedback, Alex Lopez's 2019 suite bursts through the finish line. There aren't any awkward attempts at revolutionary rhythm worth skipping over in this record, and more importantly, there's not a moment of mundane melodicism akin to something that one would hear on commercial FM radio. 2019 was asking for some stone cold blues riffs, and Lopez answered the call with a satisfying sound in this LP that I don't plan on popping out of my stereo anytime soon. He's done some great work before, but Yours Truly, Me… is on a whole other level of urbanity.
Gwen Waggoner